November 9-16, 2005
home | metro santa cruz index | santa cruz county restaurants | review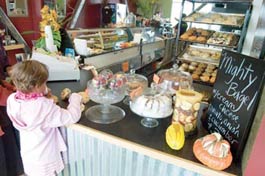 Photograph by Stephen Laufer
Mighty Muffin Power Ranger: So many choices, so little time.
In Praise of Lunch
Whether you're escaping work or bringing it with you, Rebecca's is a treat for daytime dining
By Selene Latigo
People's attitudes toward lunch vary radically. For some, it's barely worth the bother, while others see it as the most important meal of the day (especially if they've managed to sleep through breakfast). A third category, mostly nine-to-fivers, view lunch as a time for negotiating business deals, schmoozing clients or simply escaping from the daily labor treadmill.
I usually vacillate between categories depending on my schedule, but every Monday my boss and I go out to lunch, using the time to discuss management issues, business strategy or whatever else comes to mind. Choosing our destination is a constant battle, as our disparate food preferences yield little common ground. But recently, he raved about Rebecca's Mighty Muffins location near Pleasure Point, so we decided to make it our next date.
Although kind of tricky to get to parkingwise, this new space is pleasantly open and serene. The high ceilings, track lighting and tasteful Asian accents create a welcoming calm away from the chaos of 41st Avenue. There are several seating options inside and out, providing plenty of privacy and room to conduct our meeting.
A large, curved counter holds the deli case, which contains all of the pre-made daily lunch selections and baked goods. Some interesting items included the Asian tofu salad, roasted chicken monster taco and sandwiches on big, house-baked buns. Overhead, several chalkboards describe a myriad of Surf City Coffee and espresso drinks, juices and iced beverages, along with a smaller menu of breakfast specials.
The muffin choices are too extensive to describe here, but regardless of the recent ownership change from Rebecca to MaryBeth Kramer-Johnson, the caliber of whole and natural ingredients remains the same in these local favorites.
Don and I chose a few items to have there, as well as some treats to take back to the office, indulging our sweet tooth with the excuse of sharing. My half veggie pesto avocado sandwich ($3.75) was a tower of colorful freshly grated carrots, baby greens, tomato, creamy avocado, provolone cheese and pesto. The pale slice of tomato was a disappointment, but didn't detract from the flavor or texture of the rest of the sandwich, enhanced even more by the hearty house-made four-seed roll. I also sampled one of the savory scones ($3.95): a humongous slab of crumbly creativity, this well-seasoned scone was packed with potatoes, artichoke hearts and brie, with a heavy dousing of herbs, especially dill, and a crunchy sprinkling of sesame seeds on top.
Don ordered the spinach and cheese ravioli ($3.50 per half pound) as well as a green chile and chicken enchilada ($3.25). He wanted them on the same plate, but since their heating times were different, the enchilada was not quite hot. However, instead of returning it, he wolfed it down, proclaiming it to be tender and simple with a nice tangy green sauce. The ravioli was his favorite with large pillows of cheesy pasta on a bed of spinach, all dressed in rich balsamic vinaigrette with green onion and red peppers. This dish is what he ordered on his initial visit, and I have a feeling it will beckon him back again.
The baked goods we chose for our co-workers didn't make the drive back unscathed. The oatmeal raisin cookie ($1.50), the star of our treat bag, was exactly how it should be: crispy on the edges with a chewy, dense inside, dotted with just a few sweet raisins and a touch of spice. The chocolate chip cookie ($1.50) was not as exciting, with a dry texture and a metallic baking soda aftertaste. And finally, the supermoist pumpkin nut muffin ($2.50) brought our dessert buffet to a close. This seasonally appropriate favorite wasn't too sweet, with earthy clove and big chunks of walnut.
Don is already talking about our weekly return, making Rebecca's one of the few lunch destinations of which we both approve. There really is something for everyone there. With homemade and often-organic ingredients, Rebecca's is tailor-made for those of us who just say yes to lunch.
---
Rebecca's Mighty Muffins
Address: 4125 Portola Drive, Santa Cruz
Phone: 831.462.2990
Hours: 5am-4pm Mon-Fri, 6am-4pm Sat-Sun
Price Range: $1-$7