December 21-27, 2005
home | the papers | metro santa cruz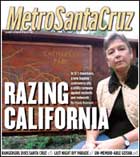 Razing California
In SC's mountains, a new logging controversy pits a utility company against residents and redwoods.

Santa Clara County News
About Last Night Again; Community TV Goes Digital; Match This.

Car Culture
Ford said that the Volvo portion of the company will continue to advertise in the gay media. It seems like a smart move to market to gay people, considering that the gay market is actually very family oriented, thank you.

Big Fella
'King Kong': Beauty kills the beast, but beauty makes him alive, too.
Tea Garden
Rob Marshall's adaptation of 'Memoirs of a Geisha' offers more snooze than sizzle.

MORE MOVIE REVIEWS

MOVIE TIMES

The SCUM Also Rises
The WikiSCUM indexes the history of Santa Cruz Underground Music.
The Rock Show
Jonathan Richman; Charlie Hunter.

MORE NIGHTLIFE

NIGHTLIFE CALENDAR

Breakfast of Champions
Felton's La Bruschetta offers a welcome respite from the bustle of local breakfast spots.

BOOK A RESTAURANT RESERVATION

FIND A RESTAURANT REVIEW

The Rangergirl Tour of Santa Cruz
Join Tim Pratt in 'The Adventures of Rangergirl' and see the supernatural side of Santa Cruz.