January 4-10, 2006
home | the papers | metro santa cruz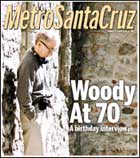 Woody Allen at 70
On his 70th birthday, Woody Allen talks about love, death and 'Match Point,' the new film that critics are calling his comeback.
The Racket
Rising tennis pro meets descending actress in 'Match Point,' Woody Allen's sober new melodrama.

Santa Cruz News
Tree Reprieve!; Spies Like Us; Boxing Barbara.

Car Culture
Trucks are the ultimate country vehicle because of what they say about the people driving. And that is: I can help.

Nude Brood
Judi Dench and Bob Hoskins star in 'Mrs. Henderson Presents,' a story of how toplessness won the war.
The Vanishing
'The Passenger,' Antonioni's 1975 riddle wrapped in a mystery wrapped in Jack Nicholson, returns.

MORE MOVIE REVIEWS

MOVIE TIMES

To Every Season
Two generations of mandolin virtuosos come together for Arts & Lectures' next concert.
Looking Back on the Future
New Music Works hosts debut CD release event.

MORE NIGHTLIFE

NIGHTLIFE CALENDAR

Secrets of the South
Handed-down recipes and spices from the old country are the flavorful ingredients at La Flor de Oaxaca.