January 18-24, 2006
home | the papers | metro santa cruz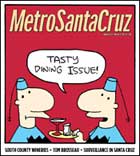 Fermenting Change
Can a new generation of growers and wineries put southern Santa Cruz County on the map?
Winter Vegetables Are Your Friends
The Brassicaceae family wants to keep your family happy and healthy this season.

Iraq Is Not a Small Central American Country
At UCSC talk, Juan Cole will offer informed comment on our Middle Eastern adventures.
Santa Cruz County News
Credible Threats; Incredulous Requests; About Last Night 3.

Car Culture
Door, Meet Bicycle.

Prince Violent
Kevin Reynolds obscures the brains and the brawn in adaptation of 'Tristan & Isolde.'
Cat Power
The superbly made animal adventure film 'Duma' beguiles adults and children.

MORE MOVIE REVIEWS

MOVIE TIMES

Straight Outta Grand Forks
Championed by Bonnie Raitt, Tom Brosseau may well be the most intriguing new artist you've never heard.

MORE NIGHTLIFE

NIGHTLIFE CALENDAR

Dessert for Dinner
Kelly's French Bakery makes evening dining a treat.

BOOK A RESTAURANT RESERVATION

FIND A RESTAURANT REVIEW

Speaking Cash to Power
Author John Harrington offers tips for taking on the leviathan.