January 25-31, 2006
home | the papers | metro santa cruz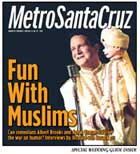 'Looking for Comedy in the Muslim World'
Actor/director Albert Brooks and Islamic comics in Santa Clara push the envelope.

Till Government Do Us Part
Santa Cruz's Linda Robinson and her partner were celebrating 13 years together when the California Supreme Court nullified their marriage. Now they fear domestic partner rights will be taken away.
Fair Factor
A campaign to raise the minimum wage citywide sends shock waves through the local business community.
Santa Cruz County News
Unanswered Questions; Loud Mouth Regrets; Hooray for MLK.

Car Culture
New-Old Drivers.

Ploughman's Bunch
'The Real Dirt on Farmer John' follows the row hoed by eccentric cultivator John Peterson.

MORE MOVIE REVIEWS

MOVIE TIMES

Old-Time on the Edge
The Crooked Jades refuse to toe the bluegrass party line.

MORE NIGHTLIFE

NIGHTLIFE CALENDAR

To Grandmother's House We Go
Downhome atmosphere is the blue plate special at the Heavenly Cafe.

BOOK A RESTAURANT RESERVATION

FIND A RESTAURANT REVIEW

The Wasteland
Heather Rogers brings us a brief history of garbage.