January 25-31, 2006
home | metro santa cruz index | santa cruz county restaurants | review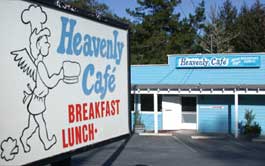 Photograph by Stephen Laufer
Angel Food: The Heavenly Cafe's roadside fare has made it a sacred institution for Scotts Valley and Felton regulars.
To Grandmother's House We Go
Downhome atmosphere is the blue plate special at the Heavenly Cafe
By Selene Latigo
When choosing places to eat, Scotts Valley doesn't really jump into my head as a dining destination. While strip malls and highway-side developments don't suggest culinary excitement, lately I've been feeling the urge to explore less familiar areas. My first stop on this new food safari was the Heavenly Cafe, which is popular already among Scotts Valley and Felton locals, as evidenced by the post-church crowd this past Sunday.
Pulling off Mount Herman Road into the full parking lot, we joined families, elders and bikers in the sunny overhanging building that feels just like a grandmother's cozy doublewide trailer. On the window side, several blue and white-checkered tables, with vases of daisies and carnations, are nestled under mismatched colored glass light fixtures and kitschy landscape paintings. The other room held one huge L-shaped table at full capacity with a bar and a large television at center stage.
We seated ourselves in a cheerful corner overlooking a lower deck and ravine. Strong Java Bob's coffee was poured into Heavenly's decorated mugs as we looked over the specials and regular menu including the shrimp scramble, New York steak and eggs, cream of mushroom soup and an orange poppy seed muffin. Typical breakfast and lunch menu items abound with some veggie-friendly additions like tofu, quesadillas, air fries and salads. There is also an extensive selection of meats available, from classics like bacon and ham to lingui┴a or chicken apple sausage.
After an understandable wait considering the crowd, plus a few more minutes beyond that excuse, we placed our order. Very ready to "break our fast" at noon, we both really went for it by ordering a plethora of sweet and savory items, always a difficult choice for me at breakfast time.
Dave chose a half order of the crab Benedict ($8.95 for half, $13.95 for whole), one of the specials that is an obvious favorite by the looks of the other plates around us. For the higher price compared to the rest of the menu, the dish held a small portion. One half of an English muffin held one crab cake and a poached egg, topped by a disappointing and chalky canary-yellow Hollandaise sauce. A small pile of undercooked but well-spiced potatoes came alongside the Benedict with some bright green and red peppers mixed in. Although the crab cake was on the mushy side, it had good flavor and complemented the poached egg. Dave also ordered a short stack of buttermilk pancakes ($4.95). These were two big and ultrafluffy pillows, without a trace of the gumminess that often comes with this style of pancake. The syrup was served in old green glass Grolsh beer bottles; a rustic and fun way to put empties to good use.
My feta scramble ($7.75) had a well-balanced ratio of spinach, mushrooms, tomatoes, feta cheese and egg, all heaped on half the plate with the same undercooked red potatoes on the other. With a choice of toast, bagel or biscuit, I went with the latter but found it dense, without the buttery flakiness a good biscuit should have.
As a sucker for homemade pie, especially at a road-stop cafe such as this, I had to indulge and finish off the meal with an individual olallieberry pie ($4.95). Unfortunately, the little stoneware deep dish was overheated in the microwave, giving the already bready crust an even more solidified and thick texture. The hot berry filling wasn't too sweet, but was overwhelmed by the abundance of crust in the small dish. A scoop of vanilla ice cream would have been a beneficial addition to add a cool and creamy contrast to this pie.
Obviously, the Heavenly Cafe has a following and provides both hearty and light menu options for a wide range of patrons. The warm and friendly ambience prevails in every detail, from the quirky font on the menu to the home-style décor and T-shirt-clad servers. The welcoming energy holds up the somewhat standard food so that you leave feeling well-fed and cared for, just like Grandma's house. This quote on the back of the menu sums it up quite nicely: "May your shadow fall in pleasant places today."
---
Heavenly Cafe
Address: 1210 Mount Herman Road, Scotts Valley
Phone: 831.335.7311
Hours: 6:30am-2:30pm Mon-Fri, 7am-3pm Sat-Sun
Price Range: $4-$15