March 15-22, 2006
home | the papers | metro santa cruz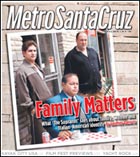 'The Sopranos'
What the popular HBO series says about family, women and Italian-American identity.

Santa Cruz Kayak Surf Festival
Boarders step aside as the 20th annual festival comes to Steamer Lane.
Santa Cruz County News Notes
District 3 County Supervisor Mardi Wormhoudt won't run for re-election; county workers stage one-day strike.

Car Culture
Thunderstruck can take any gas-powered minimoto (or any gas-powered vehicle really) and make it a plug-in electric and not lose the speed.

Santa Cruz Film Fest's Coming Attractions
Two upcoming events—a Sufi evening and a St. Patrick's Day Shamrock Out kickoff party—whet appetites for the fifth annual Santa Cruz Film Fest.
'Joyeux Noël'
Romantic French film recalls peace in war.

MORE MOVIE REVIEWS

MOVIE TIMES

Henry Mollicone
Area composer is suddenly everywhere with his new mass for the homeless, a reworked 'Coyote Tales' and a series of birthday concerts.
Muz: Yacht Rock
Channel 101's online comedy series brilliantly juxtaposes blank parody with over-the-top slapstick.

MORE NIGHTLIFE

NIGHTLIFE LISTINGS

NIGHTLIFE CALENDAR PICKS

Seascape Foods
Deli fare hits the spot at Aptos market.