February 22-March 1, 2006
home | the papers | metro santa cruz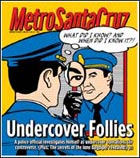 Undercover Follies
A police official investigates himself as undercover operations stir controversy. (Plus: The secrets of the lone bagpiper revealed!)
Vote Here!
Cast your ballot in the 2006 Goldies Readers Poll.

Magic Bus
Pajaro Valley to introduce California's first biodiesel school bus program.
Santa Cruz County News Notes
UC-Santa Cruz custodians express their true feelings on Valentine's Day.

Car Culture
If we run out of oil, we can always grow more corn. Right?

Corpse Ride
Tommy Lee Jones' 'The Three Burials of Melquiades Estrada' is more than just a Tex-Mex version of 'Weekend at Bernie's.'

MORE MOVIE REVIEWS

MOVIE TIMES

Blues Legend Seeks Dance Hall
Charlie Musselwhite turns it back up to 11.
Baroque Before They Fixed It
New festival program explores earlier, less ornate period.
Santa Cruz Music Notes
Clowns, mimes and Cirque du Soleil.

MORE NIGHTLIFE

NIGHTLIFE LISTINGS

NIGHTLIFE CALENDAR PICKS

The Fresh Princess
Jody Lombardo makes the previously problematic art of meal assembly easy at Fresh Prep Kitchens.

BOOK A RESTAURANT RESERVATION

FIND A RESTAURANT REVIEW

Scoping Out Mencken
From Baltimore bars to the Scopes Monkey Trial, a new biography tracks the jabs and jests of journalist H.L. Mencken.