March 29-April 5, 2006
home | the papers | metro santa cruz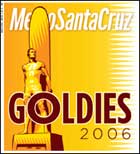 The Goldies 2006
Once again, you picked the best of Santa Cruz to be honored with the one and only Goldies Award for 2005. Nice work!

Santa Cruz Politics: Chris Krohn
Former Santa Cruz mayor may have lost his beard, but his politics remain the same as he throws his hat into the District 3 county supe's ring.
Nūz: Transportation Funding Task Force
The TFTF seeks input on Santa Cruz County transportation issues through series of public workshops.

Car Culture: Oil and Security
Novella Carpenter reports on David Goldwyn and his ideas for new energy policies.

Movie Review: 'Thank You for Smoking'
New film is sharp and funny—but why does no one want to admit it's politically correct?.

MORE MOVIE REVIEWS

MOVIE TIMES

Music Festival: SXSW Conference
The key to longevity in the music business is to do what you love and love what you do.
Mūz: The Santa Cruz Film Festival
A preview of coming attractions. Also, Shakespeare Santa Cruz prepares for its 25th season.

MORE NIGHTLIFE

NIGHTLIFE LISTINGS

NIGHTLIFE CALENDAR PICKS

Restaurant Review: Cowboy Bar and Grill
Buffalo burgers, yam cakes and the obligatory Sloppy Jed win over the greenhorns in Felton.

BOOK A RESTAURANT RESERVATION

FIND A RESTAURANT REVIEW

Art Exhibit: 'Shot Up' at The Attic
Range shooting comes to a downtown art gallery.