March 29-April 5, 2006
home | metro santa cruz index | news | santa cruz | news article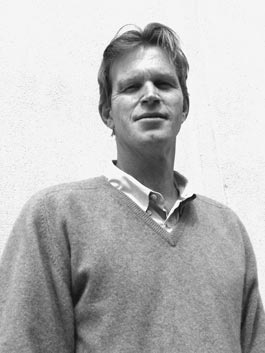 Photograph by Leyna Krow
Eternal Sunshine: Krohn says he'll keep closed sessions to a minimum.
A Natural Progression?
Chris Krohn may have lost his beard, but his politics remain the same as he throws his hat into the District 3 county supe's ring
By Sarah Phelan
They say you can't judge a book by its cover, but how about sizing up a politician by his record? Take former Santa Cruz Mayor Christopher Krohn, who announced he's running for District 3 county supervisor shortly after incumbent Mardi Wormhoudt announced that she is hanging up her supe's cape at the end of the year.
During his four-year stint on the City Council (1998-2002), the tall, blond and, at that time, bearded Krohn worked for affordable housing, alternative transportation and the adoption of a living wage. He saw plans for a family shelter, teen center and skatepark come to fruition, and led the way in pushing for increased bicycle and pedestrian access, as he promoted greenbelt and river corridor restoration.
When he was inaugurated as mayor shortly after the 9/11 attacks, Krohn promised to make the mayor's office more accessible. He also pledged to restore the city's tidelands—a fight that's currently bogged down in litigation between the city and the Seaside Company.
In the year that followed, the DEA raided WAMM, the North Coast-based medical marijuana collective. It was a bust that led to Mayor Krohn standing on the steps of City Hall, distributing medical pot, as the national media's cameras whirred. Soon thereafter, joking that "We wanted to get more CNN trucks outside," Mayor Krohn proposed a resolution opposing U.S. military action against Iraq.
"Last year a lot of people died and there was the feeling that the U.S. had been attacked, whereas now there's the fear that Americans could be harmed if we attack Iraq," he said.
Despite his high profile, Krohn decided not to run for another four-year term, citing family responsibilities—a decision that didn't stop him from weighing in on local politics.
In 2003, when the City Council voted to disband the Citizen Police Review Board, citizen Krohn noted, "This does not bode well for progressive politics."
He voiced his opposition to Measure J, the highway widening sales tax initiative that bombed on the November 2004 ballot. And last year, he was one of five former Santa Cruz mayors (Jane Weed, Bruce Van Allen, Katherine Beiers and Celia Scott were the others) who crawled out of the political woodwork to oppose the Coast Hotel.
It's a history that adds up to a very specific shade of progressive politics, a shade that in many ways resembles that favored by incumbent Supe Mardi Wormhoudt—and explains why her March 10 decision to hang up her District 3 cape sent Krohn into a tailspin as he scrambled to file candidate paperwork.
Candidate Schmandate
"Candidates usually have several months to get their campaigns together," explains Krohn, who had less than one weekend to get his campaign off the ground. "But I hope," he adds, dressed in a cornflower-blue shirt that matches his eyes, "that the telescopic nature of this race will be less wearing."
Acknowledging that he loves Mardi Wormhoudt—"She was very tough in the face of adversity and the 'other side'"—Krohn believes he can put his past experience to good effect representing District 3.
"For 30 years, the Third District has led the way on environmental issues and preserving the environment, by channeling the voices of the environmentally concerned and turning them into good environmental policies," says Krohn, who is currently working as the internship coordinator for UCSC's environmental studies department—a job that he says had raised his awareness of issues related to water, global warming, erosion, conservation and endangered species.
Noting the large role that agriculture plays in District 3, Krohn says his focus would be on nurturing sustainable farming processes, alternative energy, biofuels and good green jobs.
"I'll be there to continue a sustainable organic farming culture. Look at the farmer's market. We have that diversity of fruits and vegetables, year round," he says.
Confident that his record in public office, as well as in private life, shows he's spent a lot of time on the issue of preservation and open-space enhancement, and noting that District 3 represents areas like Bonny Doon and Davenport, which are far away from the county seat, Krohn cites Wilder Ranch as "a spectacular example of a big open-space environment that has been preserved, but for which 10,000 units were planned in the 1970s."
"The growth pressures in California are enormous," he warns. "We're not facing them alone, but people who live in Santa Cruz are different. We've been attracted because of the physical beauty and the geography. And we've channeled that through the ballot box in terms of preserving the North Coast, making sure the Monterey Bay is clean, monitoring UCSC's growth—and not widening the highway."
Highway to Hell
To Krohn's mind, "There are ample alternatives to widening." Optimistic about the 90-member Transportation Funding Task Force headed by county treasurer and former Assemblymember Fred Keeley—"It has the appearance of being unwieldy, but it seeks to bring all interests to the table," he says—Krohn characterizes the Keeley-led endeavor as "admirable."
"It has my support," he says. "I know where we disagree. The question is, what do we agree on?"
In favor of a plan that "respects the environment, meets people's needs to get to work, school, home and the doctor's on time, provides a smorgasbord of options—and legitimizes those options," Krohn also advocates an increase in the funding of the Santa Cruz Metro Transit District, "especially where it's working, like Watsonville and UCSC campus. And there's no reason why we can't attach bus passes to development packages."
Opposed to building within "the urban core," Krohn supports "sustainable good union jobs" and believes Santa Cruz has the chance to be "a center for renewable energy and good green jobs."
As for NIMBYism, Krohn redefines that as "people speaking out about the issues which affect their neighborhood, which after all is the only way folks in office get a reality check."
Present Imperfect
With the SEIU and the county locked in a labor dispute, Krohn (who also supports the Santa Cruz minimum wage initiative) comes down on the side of the workers.
"We have to figure out how to pay people a wage so that they can afford to live and work here."
But he doesn't intend to do so by sacrificing services. "A lot of the county budget is about human services. In terms of homelessness, health care and child health care, we need to continue to focus more resources in these areas. I think the magnet theory has been defamed," he says.
And while he is open to having conversations and dialogue, Krohn stresses the importance of making decisions.
"I'm not going to back away from a fight. I'm prepared to speak out. People respect that. When I wake up in the morning, I'm not thinking about building an empire. I'm thinking about working people and how we can make sure that this doesn't become a closed-off paradise. Everyone agrees this is a great place to live. And people in the Third District agree on the need to preserve the coastline and the Green Belt and take tough stands against outside predators."
So, what, if anything, would he do different as supervisor?
"I'm not casting any aspersions, but I hope to bring more sunshine and openness to county affairs. My outlook is to keep the minimum number of items in closed session—something you'll all appreciate."
With the June 8 primary approaching, does Krohn, who is already walking the precincts, knocking on doors and hearing his prospective constituents' views, regret shaving off his trademark Chewbacca-like beard?
"Less people come up and complain about the potholes on their street," jokes Krohn, who is evidently still the mayor in many city residents' minds.
This is the first in a three-part Metro Santa Cruz series featuring candidates in the race for District 3 county supervisor. Look for profiles of candidates Jonathan Boutelle and Neil Coonerty in the weeks ahead.
Send a letter to the editor about this story.