May 10-17, 2006
home | the papers | metro santa cruz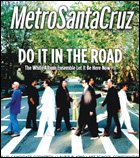 Music Feature: White Album Ensemble
Santa Cruz's fab eight take over where the Beatles left off.

Santa Cruz Political Profile: Neal Coonerty
The county supervisor candidate gives up his bookstore for another shot at political stardom.
Nūz: Santa Cruz News and Politics
UCSC professor Barry Sinervo locates the gene for altruism in lizards; Fred Keeley, John Laird and bagels unite for economic prosperity; and the Guerilla Drive-In returns to nature.

Car Culture
Think Globally, Eat Locally: Every mile your food travels adds to the rising price of gas.

Santa Cruz Film Festival Finales
Richard von Busack reviews the final days of this year's festival.
Movie Review: 'Art School Confidential'
Terry Zwigoff exposes the dark comic underbelly of pedagoguery.

MORE MOVIE REVIEWS

SANTA CRUZ COUNTY MOVIE TIMES

Music Interview/Preview: Cabrillo Farewell
Pianist John Orlando ends 36 years of teaching with a special retirement performance.
Mūz: Santa Cruz Media, Music and Arts
Musings on media, music and the arts in Santa Cruz and beyond. Pyrotechnics and a blues fest preview highlight the weekend's activities.
Music and Nightlife Calendar Picks
Metro Santa Cruz critics write about the week's most interesting gigs.

MORE MUSIC AND NIGHTLIFE

MUSIC AND CLUBS LISTINGS

Restaurant Review: The Falafel House
Revisiting a downtown Santa Cruz favorite with a Middle Eastern flair.

BOOK A RESTAURANT RESERVATION

FIND A RESTAURANT REVIEW

Book Interview: Laurie R. King
The Artist of the Year conducts an experiment in writing in public.