May 10-17, 2006
home | metro santa cruz index | music & nightlife | interview/preview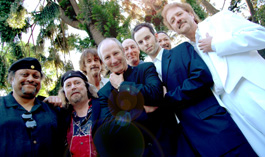 Photographs by Dina Scoppettone
Eight Is Enough: From left to right, Tiran Porter, Bob Bliss, Dale Ockerman, Richard Bryant, Michael Daugherty, Jason Schimmel, Alan Heit and Ken Kraft.
Let It Be Here Now
The White Album Ensemble's fab eight take on the last two Beatles albums and talk about a musical legacy that extends from Liverpool to Santa Cruz
By Bill Forman
The building where the White Album Ensemble do most of their rehearsing can lay claim to nearly as much history as the music they've chosen to play. According to keyboardist and musical jack of all trades Dale Ockerman, the Front Street storefront was once a Chinese poultry shop, and before that, a house of ill repute.
This, of course, was back in the days before the levee was built and the San Lorenzo River's proclivity for flooding made it an unsuitable staging area for a proper downtown. After a subsequent incarnation as a credit union--Ockerman likes to think of its role in helping small local businesses create a thriving downtown--the building is today home to a musical instrument shop, More Music, from the back of which he operates his own music school (see sidebar below).
In fact, the building is so close to the levee that people walking along it, when their reflections are seen in the inner doorways, appear to be walking in the sky. Or maybe, Ockerman jokes, we're just peering into an alternate world.
Dale Ockerman is a Zelig-like presence in the history of Northern California rock & roll. He hooked up with legendary San Francisco '60s band Quicksilver, whose posters had graced his bedroom growing up in Castro Valley, in time to play keyboards with them onstage at the closing of the old Fillmore West. Here in Santa Cruz, he joined the Ducks right after Neil Young left the band, and played with Michael Been in Airtight, a group that would go on to national chart success as the Call. He gigged with Sista Monica on the eve of a coup in Venezuela, and has been a member of such diverse groups as the Doobie Brothers, local legends Snail and Meters founder Zigaboo Modeliste's New Aahkesstra.
He is, in short, a one-man repository of local music history, much of which is present and accounted for in his cell phone directory as well as his current labor of love, the White Album Ensemble. In addition to Ockerman on keys, guitar, vocals and trumpet, the band features Snail co-founding guitarist/vocalist Ken Kraft, Doobie Brothers bassist Tiran Porter, vocalists Richard Bryant (who did stints in Snail, Doobies and Little River Band) and Alan Heit (Roadhogs, Future Primitive), guitarist Jason Schimmel (Estradasphere, 13th Partial Trio), keyboardist Bob Bliss (the Fans, Dreambeach, Joe Sharino) and drummer Michael Daugherty (Road Hogs, Jewls Blues).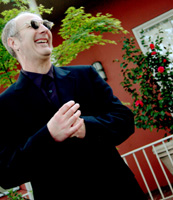 Paul Bearer: Richard Bryant, who sings all the McCartney parts, actually underwent surgery in order to reach so many high parts. A Bee Gees tour is now in the works.
The band got its start when local luthier Rick McKee hired them to do the Beatles' White Album as an art project. The musicians quickly realized that four musicians--no matter how fab--could never replicate the sound of the albums John, Paul, George, Ringo and producer George Martin made after the band quit touring. Taking up where the Beatles left off, in fact, required a doubling of the core lineup, as well as a host of guest musicians ranging from tabla players to string quartets.
Over the last three years, the group has done concert performances of The White Album, a combined evening of Rubber Soul and Revolver, and, earlier this year, Magical Mystery Tour and Sgt. Pepper. This weekend, the group takes on the Beatles' final two albums, Abbey Road and Let It Be, after which it will reprise a number of songs in a special performance with the Santa Cruz County Symphony Orchestra on June 3.
There are reasons why the White Album Ensemble's entire oeuvre was never performed live by the Beatles, not least the fact that those albums were, at the time, the epitome of true studio creations, only rivaled by Brian Wilson and the Beach Boys' Pet Sounds album.
"Before I got into the Beatles, I was a Beach Boys nut," says Ken Kraft, who plays guitar and sings all the George Harrison songs in the White Album Ensemble. "I think a lot of it was because I was in California, but also their music was really very good. The creative fire and competition between Brian Wilson and Lennon and McCartney was very important to both groups."
Kraft remembers first hearing the Beatles "in a really small hole in the wall Claremont record store, which was out on Route 66 about 30 miles east of Los Angeles. It was the first record on VeeJay, 'I Saw Her Standing There.' And the second line was what got me: 'She was just 17/ You know what I mean.' They included us, they included the audience instantly."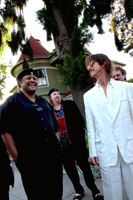 Doobie Brothers: Few people realize that neither Tiran Porter (left), who played on all the Doobies' hits, nor Dale Ockerman (right), who joined the band in the '80s, have ever smoked a joint.
Tiran Porter has similar memories. Like much of America in those days, the future Doobie Brothers mainstay willingly spent many a Sunday night wading through the worst parts of The Ed Sullivan Show--innumerable spinning plate acts, creepy mouse puppet Topo Gigio and, of course, the cadaverous Sullivan himself--in order to catch the Beatles' frequent guest appearances. It was the true beginning of "must-see television," but it was through the medium of radio that Porter first encountered the Liverpool Sound.
"I still have the transistor radio--a big console version--that I first heard them on," says Porter. "I kept it as a souvenir. I remember it was KFWB in Los Angeles, and they played 'I Wanna Hold Your Hand,' and I just went, 'Is that cool!'" So cool, in fact, that Porter, who describes Paul McCartney's bass lines as "busy, melodic and essential," learned bass by playing along to the music he's now playing with the White Album Ensemble.
When We Was Fab
The Beatles landed in the States during a period of disillusionment and lost innocence that was likely as profound as the one many Americans are experiencing today. Their British Invasion was, in many ways, the necessary salve for a nation shell-shocked by the Kennedy assassination, a fresh symbol of renewed innocence that, combined with the unique talent of its participants, ensured a musical and cultural legacy that, at least for their fans, will never be matched.
"There was so much about Kennedy that was good and positive in terms of social conscience, and that was just taken away, along with Martin Luther King and Bobby Kennedy," muses Ockerman. "I mean, they took out the Black Panthers for giving kids breakfast!"
The way Ockerman figures it, "We were perfectly set up for some optimistic, fresh-faced, longhaired peace and love thing to come from England and just take over."
Of course, post-empire England had its own sense of yearning, particularly in the aftermath of World War II bombings. "Many of those musicians lost their dads in the war, so they had to deal with their own collective ego implosion."
Growing up in working-class Liverpool, Lennon and McCartney found themselves tapping into both a personal and a national zeitgeist. "I think it was an indefinable natural thing," says Ockerman of the two songwriters' relationship. "Like, 'Your mom died, wow, my mom died too.' They had enough really deep stuff in common: a real love of Eddie Cochran and rockabilly, and they wanted to be rebellious and they wanted to get laid. So they had some real common goals there, plus they were really talented."
Ockerman figures that yearning and vulnerability offered a clear alternative to the previously reigning on-top-of-the-world views of Sinatra and his Rat Pack: "It was a real contrast to the prevailing Sinatra macho thing, this real yin to the yang thing. The Beatles weren't totally feminine, but they weren't totally masculine either. The long hair and the fact that they didn't act too dominant--they always had a tinge of androgyny, whereas Frank and guys like that were totally, 'Hey, babe," totally macho. So one thing always sets up another."
The Beatles may have been in touch with their feminine sides, but it took the White Album Ensemble to integrate the band racially.
"Yes, we do have the first black Beatles," laughs Ockerman. "But, you know, the Beatles really always wanted to be the black Beatles, because when you look at Rubber Soul, that originally was their wanting to be like Motown." In fact, he says, the album was originally intended to be titled Plastic Soul, but was changed to Rubber Soul because, after all, even the Beatles couldn't resist a bad pun.
"The Beatles didn't succeed at being a soul band any more than the Rolling Stones succeeded at being a blues band, but both really tried," continues Ockerman. "And, you know, they did an acceptable job of it, but they wouldn't have made a living as the latest Motown sensation: four white guys from Liverpool! It wouldn't have made it with the white teenagers, here, but they really wanted to be like that."
It's All Too Much
Unlike the White Album Ensemble's previous shows, this time around the group could have gotten by onstage with just their eight core musicians. "But I always want to throw in something extra, so I called up Tammy Brown, who's this great gospel singer, and asked her to put together some singers and get a bit of choir activity going on the songs 'Let It Be' and 'It's All Too Much.'" Ockerman says he got the idea after listening to Aretha Franklin's version of "Let It Be," which has better backing vocals.
Asked how purists are likely to respond, Ockerman says he's not worried. "Well, it is messing with the purity, but most people, even the biggest Beatles fans, will admit that Let It Be is the sound of the world's most popular band falling apart. You can hear them breaking up, just going along and not giving a shit about how they record, playing out of tune."
When the band recently gave a talk at UCSC, professor Fred Lieberman asked if they were going to perform the Phil Spector version or the more recently released Andy Johns "Naked" version. Ockerman answered by asking the audience how many people bought the latter. When only a few hands went up, Ockerman explained how nobody but Paul liked the record when they did it. After Spector had his way with it, he says, "John Lennon said, 'Well, at least I didn't puke when I listened to it.'
"But if you detach the album from all the bullshit, the songs are great," he continues. "So we'll use arrangement from the Spector stuff, where they work. You know, like [the Spector version of] 'Long and Winding Road' has some pretty violins, so we like that because the naked version didn't have that. But the naked version has a better vocal, so Richard, our Paul vocalist, likes that vocal better and he'll be drawing more on that."
And while the White Album Ensemble may employ digital sample-based synthesizers, they never rely on sequenced or pre-recorded parts. "Bob Bliss, the other keyboardist, he designs for Emu, so he has the ultimate [sampled] Mellotron archives," says Ockerman. "But I, however, have gone totally retro and am bringing my Hammond B-3, my Wurlitzer electric piano, and yes, I'll have that Leslie speaker spinning."
As for the upcoming gig with the Santa Cruz Symphony Orchestra, Ockerman (who started out playing trumpet in his school orchestra) sees it as a natural progression after years of treating Beatles songs with the reverence and discipline normally reserved for classical music.
"It's completely different than, 'Hey, let's jam some blues and go play the Crow's Nest and make 400 bucks and, you know, get drunk and go home," he says, noting how they always go the extra mile, whether that means getting cellist Barry Phillips to write out intricate charts, bringing in a trumpet section for Sgt. Pepper or taking the baroque-sounding piano part from "For No One" and rearranging it for a string quartet. It's the kind of sound, he insists, you just can't get with sampled strings: "When you're playing a sample, you're playing what that guy was playing at that time [the sample was originally recorded]. It might have been in Stockholm five years ago. Well, what about the mood tonight?"
Having seen the two surviving Beatles play their old songs live, it's amazing but true that the White Album Ensemble does a better job of it. "Well, nobody's gonna sing it more like Paul than Paul," says Ockerman, looking a bit embarrassed by the compliment. "But if the keyboard player is playing the Penny Lane trumpet solo with his left hand as he's doing the piano with the right, you're gonna lose a little something. It take a lot of people if you really want to sound like the record. ... We always hope one of these days the word will spread and one of the surviving guys will pop down and give it a nod."
And if not, Ockerman says it's had an immeasurable influence on his own songwriting. "When I play this stuff, it's so good that I'm just humbled," he says. "Now with all these Beatles riffs running through my head, it makes it hard to sit down and write a crappy song."
The White Album Ensemble play 'Let Abbey Road Be' Friday, May 12, and Saturday, May 13, at 8pm at the Rio Theatre, 1205 Soquel Ave., Santa Cruz; tickets $26 general/$42 Gold Circle, available at Streetlight Records 831.421.9200. Proceeds from the concert will benefit the music education program at Shoreline Middle School.
---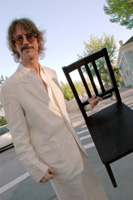 Creative Class: Pull up a chair and let the rocking begin.
Dale Ockerman never imagined he would become a teacher, even though his grandfather, parents and siblings have all done it. He was, after all, the one who managed to get himself kicked out of high school. And while his musical education has been a long one--beginning with school trumpet lessons, where he learned to love Mussorgsky, Grieg and Prokofiev, and on through decades of earning his living as a professional musician--he definitely doesn't look like your parents' piano teacher.
But last fall, Ockerman opened up his own downtown music school in a cluster of rehearsal rooms located in the back of Front Street's More Music guitar shop. With a host of accomplished artists on its roster of instructors, among them fellow White Album Ensemble musicians Ken Kraft, Richard Bryant and Jason Schimmel, Santa Cruz New Music S'cool offers instruction in all styles, including Americana , R&B, rock and bluegrass.
"The trouble with Rock School and School of Rock--they're both interesting movies, but really, there's more to life than superficial metal," says Ockerman of Jack Black's take on teaching kids music. "I'm into more of the peaceful Santa Cruz version," he adds, noting that Neil Young and the Beatles are among the most popular artists with both students and the soccer moms who drop many of them off.
Which is not to say that Ockerman doesn't have a soft spot for hard rock along the lines of Led Zeppelin, whose music he describes as "deeply heartfelt." Ockerman grew up loving the Animals, the Yardbirds and, later on, the Beatles. He first encountered black music at age 11, when he broke his leg and found himself stuck in a Kaiser Oakland waiting room where another kid ("the first black person I ever hung out with") turned him on to legendary Bay Area station KDIA, Lucky 13. "Sly Stone was a DJ, and they played Otis Redding and Ray Charles and stuff I never heard before."
Patterning his own school after San Francisco's eclectic Blue Bear school of music, Ockerman aims to help fill in the gap left by dwindling music education programs in public schools. But that doesn't stop him and his White Album Ensemble brethren from giving back through charitable contributions to programs such as Guns Not Guitars and their latest concerts' music education program recipient, Shoreline Middle School.
Meanwhile, Ockerman is contemplating expanding beyond individual lessons to include group sessions and eventually a music camp. He promises, however, that it will be nothing like the rock & roll fantasy camps which have become successful at parting overgrown fans from their excess cash.
"Do you really want to pay nine grand so you can tell the guys at the country club: Yeah, I played 'Can't Get Enough of Your Love' with the Bad Company drummer!" asks Ockerman. "You could probably just hire him to do a session for cheaper." --BF
Send a letter to the editor about this story.