April 26-May 3, 2006
home | metro santa cruz index | music & nightlife | mūz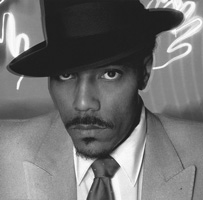 Sweet Pea Atkinson: Because a true soul man knows how to dress for success.
Mūz
Bonefire Bob & The Boneshakers
By Bill Forman
FIRE AND RUST: Lured to the Hide Gallery Friday night by late-breaking reports of parking lot firedancers cavorting outside the Keak art exhibit (see last week's column), Müz arrived in time to see only a lone saw player, and a rusty one at that. In a town where musical saws place second only to ukuleles, we mean no offense to the late Tom Scribner or his musical minions. But you gotta admit, watching something rust isn't quite the same as watching it burn. With no Chirby cows in the neighborhood, the next logical stop was the Felix Culpa Gallery, where, as luck would have it, Pyrocussion happened to be playing. Using the traditional rock format of guitar, bass, drums and multiple vertical flame cannons, Pyrocussion is the brainchild of local fiftysomething Burning Man fanatic Bob Hoffman--a.k.a Bonefire Bob--who reportedly began creating drumstick-driven flamethrowers in the open-air ruins of his Loma Prieta-stricken home. While the band members all seemed present and unscorched Friday night, the Pyrocussion website now says they're looking for a bass player, a percussionist and a "confident" sound engineer. Hope there weren't any Spinal Tap moments after I left.
BELLE HOOKS: While Felix Culpa burned, the nearby Attic was filled with the comparatively breezy sounds of Essex Green. A Brooklyn band signed to the mighty Merge label, the group immediately brought to mind an American Belle & Sebastian combined with--what? I couldn't quite put my finger on it Friday, but a visit to the band's MySpace site revealed their top two influences as Belle & Sebastian and--that's it!--the Mamas & the Papas.
A short while later, the real Belle & Sebastian were a topic of conversation at the Museum of Art & History during its opening party for the Santa Cruz Film Festival. In Memory of My Father director Chris Jaymes explained how he'd become friends with the Scottish group's Stuart Murdoch while the band was recording out in L.A., which proved fortunate when it came time to get their record company to clear usage of their music in the film. Jaymes said that while the label owns the rights to the recordings, the Belle & Sebastian frontman was able to persuade them to drop the usage fee from a standard $80,000 to $25,000. Of course, Jaymes probably could have gotten Essex Green's music for next to nothing, but somehow it wouldn't have been the same.
LATHYRUS ODORATUS: As impressive as the Boneshakers are on record, there's nothing that can compare to their live gigs, which they proved once again Saturday night at Moe's Alley. While I used up all my superlatives on Was (Not Was) vets Randy Jacobs and Sweet Pea Atkinson in last week's Music Calendar, keyboardist Tio Banks and the rest of the band were also amazing. The band finished up the evening with Hype, a shoulda-been hit from their early days whose inclusion on a recently released live album from back then inspired them to dust if off. If you missed it, you can still attend the makeup session: The Boneshakers will be playing the second night of the Santa Cruz Blues Festival, as well as the festival afterparty at Moe's. Miss those and there's no hope for you.
Send a letter to the editor about this story.