April 12-19, 2006
home | the papers | metro santa cruz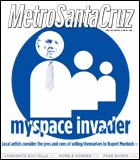 MySpace Invader
Santa Cruz musicians and artists, along with indie gods Ian MacKaye and Calvin Johnson, consider the pros and cons of selling yourself to Rupert Murdoch's omnivorous web service.

Santa Cruz Political News: Jonathan Boutelle
An outspoken two-time union president explains why he's running for the Santa Cruz County Board of Supervisors.
Nūz: Santa Cruz News and Politics
City Councilman and Living Wage advocate Tim Fitzmaurice tells why he's backing no one in the County Supervisor race; Second Harvest expands its food program for the poor.

Car News: Cheap gas in Hugo Chavez's Venezuela is an engine for growth
Chavez builds a country on oil revenues and that may be a good thing.

Movie Review: 'Lucky Number Slevin'
Paul McGuigan's new film should be rated P for the gratuitous overuse of plaid.

MORE MOVIE REVIEWS

MOVIE TIMES

Music News: Fake Out
Fakebands.com sorts out real bands from made-up groups.
Mūz: Santa Cruz Media, Music and Arts
Musings on media, music and the arts in Santa Cruz and beyond. Jello Biafra may have lost the Dead Kennedys, but he's not letting go of his Gary Wilson album.
Music and Nightlife Calendar Picks
A guide to the week's best music and events. This week: Los Pinguos, the Radiators, Lissa Schneckenburger, Savoy-Doucet Cajun Band, Thriving Ivory, Brad Wilson, Immortal Technique, Tinariwen, 30 Seconds to Mars and Matt Haimovitz.

MORE MUSIC & NIGHTLIFE

MUSIC AND CLUB LISTINGS

La Hacienda
Boardwalk tourists and locals both flock to this casual restaurant for good Mexican food with an ocean view.