May 10-17, 2006
home | metro santa cruz index | music & nightlife | band review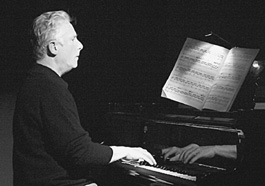 Cabrillo Magic: John Orlando will play his own retirement party next week.
Orlando Magic
John Orlando retires from Cabrillo's faculty, but not from music
By Scott MacClelland
John Orlando invites you to a going-away party. His. The locally prominent concert pianist, college professor, concert promoter/producer and procurer of Steinways isn't actually going away. But, after 36 years on the Cabrillo College faculty, he says unambiguously, "I shall take a powder." On May 18, Orlando appears as soloist in Beethoven's Piano Concerto no. 3 during a concert by the Cabrillo College Orchestra conducted by Don Adkins, providing his many friends, colleagues and students with an opportunity to say thanks. And they are legion. Orlando has performed with the Santa Cruz Symphony--notably under George Barati, whose "understanding of [the European] repertoire was a revelation to me"--and the Cabrillo Contemporary Music Festival, founded the Cabrillo Distinguished Artists and Lecture Series and taught scores of piano students.
"I love teaching piano. When I teach piano, the world fades away. Teaching involves science, mathematics, history, spirituality, religion and philosophy, and most important, the uncovering of beauty," he says. "There is nothing like it. Every lesson and every student is different and unique, no matter how many times the same piece is taught. And the learning always goes both ways."
Orlando's career and imagination have allowed him to sail in currents not otherwise obvious in their time and this place. He was instrumental in introducing Dennis Russell Davies to the community prior to his becoming music director of the Cabrillo Festival, and suggesting using the mission at San Juan Bautista as a run-out venue (thereby starting a tradition). He collaborated with Ernest Kretschmer to visit the Steinway House in New York to acquire a piano to be shared by the festival, the Santa Cruz Symphony and Cabrillo College. (Earlier this season, he went on a similar mission to acquire more Steinways, including the one he will play on May 18.)
At the Cabrillo Festival, Orlando met composer Anthony Newman, from whom he commissioned two works and with whom he spent his first sabbatical in New York, meeting many prominent figures in the larger world of music. Among them was guitarist Benjamin Verdery, who inaugurated Orlando's Distinguished Artists series in 1984. Others who came to town for the series included the pianists William Masselos, Van Cliburn winners Benedetto Lupo and Antonio Pompa-Baldi, Jessica Williams, Sergei Babayan, Barbara Nissman and the Polish authority on Chopin, Pawel Skrzypek.
In a busy retirement, Orlando has been invited to perform recitals in Australia, Brazil and Italy. "Next year I will perform with the Akademos Quartet in Poland and Croatia," he says, adding that his connection to Cabrillo is ongoing. "I will continue to produce concerts primarily featuring keyboard artists. In 2008 we will perform the Arthur Foote Piano Quintet in the new performing arts center at the college, and I have commissioned a Polish composer, Alexander Lason, to write a ballade a la Chopin for me to perform here as well."
Thoughts of retirement have done nothing to diminish Orlando's zeal and faith. "I believe that the relationship between art and truth is very real and very important," and, quoting Picasso, "art is a lie that makes us realize the truth."
The Cabrillo College Orchestra with soloist John Orlando performs Thursday, May 18, at 8pm at the Cabrillo College Theater, 6500 Soquel Drive, Aptos; $5 general/$2 with Student Activity Card. Tickets are available through Cabrillo Box Office, 831.479.6331.
Send a letter to the editor about this story.