May 3-10, 2006
home | the papers | metro santa cruz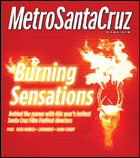 Santa Cruz Film Festival Intro
Get ready to go behind the scenes at this year's Santa Cruz Film Festival.
Santa Cruz Film Festival Director Interview: Christopher Jaymes
The director of 'In Memory of My Father' talks about working both sides of the camera, touring with Wanda Jackson and the self-absorption of young Hollywood.
Santa Cruz Film Festival Director Interview: Pre-Teen Players
The tweener directors of 'Genie in a Bottle Unleashed' on fighting summer boredom and preventing nuclear annihilation.
Santa Cruz Film Festival Director Interview: Paul Festa
The director of 'Apparition of the Eternal Church' subjects John Cameron Mitchell, Harold Bloom and an eclectic array of personalities to the joys and torment of Messiaen.
Santa Cruz Film Festival Reviews: More Festival Notables
Burning Men, Flaming Queers and a Visit to Hell, all in the comfort of a climate-controlled theater.

Nūz: Santa Cruz News and Politics
Immigration prompts largest local protest since the war began, Santa Cruz City Manager Dick Wilson wants more hotels, and Jana Marcus on the art of gender transformation.

Car Culture
Cash-strapped drivers look to California state program for low-cost auto insurance.

Movie Review: 'Hard Candy'
Director David Slade turns a fairy tale into a horror-movie revenge orgy.

MORE MOVIE REVIEWS

SANTA CRUZ COUNTY MOVIE TIMES

Music Interview/Preview: Sista Monica
The blues lioness on how surviving cancer changed her outlook and helped inspire her forthcoming birthday benefit for AIDS-inflicted children in South Africa.
Music Interview/Preview: Marc Olson and Gary Louris
Olson talks about his decision to reunite with his fellow Jayhawks founder 11 years after leaving the band.
Music Interview/Preview: The Santa Cruz Symphony
Conductor Larry Granger takes on Berlioz's 'Requiem' in what promises to be the symphony's largest 'spectacle' to date.
Mūz: Santa Cruz Media, Music and Arts
Musings on media, music and the arts in Santa Cruz and beyond. Keak Da Sneak, true to his name, sneaks in and out of the Catalyst in no time flat, while local artist Koak puts the 'sicko' in Cinco De Mayo.
Music and Nightlife Calendar Picks
A guide to the week's best music and events.

MORE MUSIC AND NIGHTLIFE

MUSIC AND CLUBS LISTINGS

Restaurant Review: Sash Mill Café
A recent ownership change has brought new life to an old Santa Cruz favorite.

BOOK A RESTAURANT RESERVATION

FIND A RESTAURANT REVIEW