May 3-10, 2006
home | metro santa cruz index | movies | current reviews | film festival preview
2006 Santa Cruz Film Festival
intro | 'In Memory of My Father' | 'Apparition of the Eternal Church' | more festival notables | 'Genie in a Bottle Unleashed'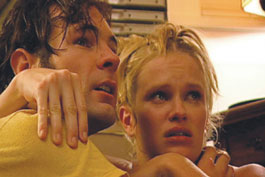 But What About Me?: Christopher Jaymes, seen here in a scene with Nicholle Tom, works both sides of the camera in his Santa Cruz Film Festival debut.
Death Be Not Proud
In festival opener 'In Memory of My Father,' Christopher Jaymes skewers the self-absorption of young Hollywood
By Bill Forman
Christopher Jaymes wrote In Memory of My Father, the opening night feature at this year's Santa Cruz Film Festival, in five days and shot it in four. That nearly impossible schedule was a consequence of his friend David Austin (who plays the dying Hollywood mogul in the film's title) asking if James, who had just returned from a three-month trip to Southeast Asia, could write a screenplay for a film they could shoot on location at a mansion once owned by Samuel Goldwyn, which Austin was about to sell. The resulting dark comedy has since gone on to win awards at a slew of festivals across the country.
So how did Jaymes manage to produce Miramax-quality results on an Ed Wood schedule?
"Well, some people might still think it is Ed Wood," says Jaymes of the famously failed B-movie director, "but hopefully not too many. Yeah, it was definitely out of necessity, not out of trying to prove something. But the payback came in post [production]. It was a real challenge to cut the film together because we weren't able to scope every single shot perfectly, and we couldn't go back to reshoot. So hence, it kind of gives it a little more of that 'Ooh, indie hand-held, let's go and be arty!' kind of thing. But you know, I think it sort of works with the film."
Working both sides of the camera, Jaymes plays the brashly impudent youngest of three sons, whose father bribes him into filming his death and the effect it has on his family, who are by and large too self-absorbed to pay much attention to their beloved corpse ex machina.
Jaymes' skewering of Hollywood industry scions draws upon years of living in Southern California, where he got his start playing guest roles in sitcoms and the odd "enjoyably awful TV movie."
Unlike many other young writer/directors, Jaymes has no family connections (he was raised by his mother, a doctor's office manager, in Huntington Beach) and opted to study music at Berklee instead of going to film school.
A musician, as well? "Yeah, that's subjective too," he laughs. "I did study and I was kind of obsessive about it for a period of time. And I toured for a little while as a piano player."
As it turns out, Jaymes toured backing rockabilly queen Wanda Jackson, who for all intents and purposes is the closest thing this world has to a female Elvis Presley. "Yeah, one night after she decided that she liked me, she took me aside, we hung out and she put Elvis's ring on my hand," he enthuses. But unlike the pink Cadillacs Elvis used to hand out, this gesture wasn't for keeps. "No, she took it back," he admits. "I thought I was special for a minute."
Self-deprecating as he may appear, Jaymes' star is clearly rising. He recently signed a distribution deal that will allow him to retain the Belle & Sebastian tracks in the film, and no less an indie film heavyweight than Allison Anders has compared Jaymes' debut to the films of Cassavetes and Altman (although Jaymes claims to be more of a Bunuel fan himself).
When two other cinematic examples of men behaving badly--Neil LaBute's In the Company of Men and David Rabe's Hurlyburly--are offered up, Jaymes says that while he enjoyed both films, he feels more of a kinship with the latter.
"With Hurlyburly, I think you actually can care about some of these people by the end," says Jaymes. "I think with the Neil LaBute film, it was more like, 'Look how awful people are to each other.' But with In Memory of My Father, it's like, 'Look how self-absorbed we are. Jesus Christ, how come we don't know better?'"
Chris Jaymes will appear at the Santa Cruz Film Festival's opening night presentation of In Memory of My Father on Friday, May 5, at 7:30pm at the Del Mar Theatre.
Send a letter to the editor about this story.