May 3-10, 2006
home | metro santa cruz index | movies | current reviews | film festival preview
2006 Santa Cruz Film Festival
intro | 'In Memory of My Father' | 'Apparition of the Eternal Church' | more festival notables | 'Genie in a Bottle Unleashed'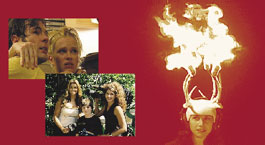 Left to right: 'In Memory of My Father,' 'Genie in a Bottle Unleashed' and 'Apparition of the Eternal Church.'
Heat Treatments
Behind the scenes with this year's hottest Santa Cruz Film Festival directors
The Santa Cruz Film Festival, now officially thirtysomething in dog years, has its own tag line this year. Tag lines, as you've probably noticed, are those catchy little phrases that have become such important marketing components that if you look up a new film on Internet Movie Data Base (www.imdb.com), you'll likely find the tag line listed at the top, above cast, plot summaries and other trivia.
A further distillation of the '80s "high concept" phenomenon, in which attention-deficit-disordered Hollywood mavens were spoon-fed project concepts with phrases of 10 words or less, the tag line continues to shrink, from the unwieldy but effective Jaws 2 ("Just when you thought it was safe to go back in the water ...") to the more efficient but less subtle Saw 2 ("Oh yes, there will be blood").
Indie films get them too. Look up Santa Cruz Film Festival opener In Memory of My Father (see feature), and the darkly solipsistic comedy's tag line is "... but what about me?" For the experimental documentary, Apparition of the Eternal Church (see director interview), it's "Listening to music is a religious experience."
Neither of the above is likely to take a bite out of the "Oh yes, there will be blood" market, but that's not what the more than 100 films, panels and festivities in the fifth annual Santa Cruz Film Festival are about.
The tag line for this year's festival, by the way, is "Project: Collecting the Consciousness," which, given the diversity of its offerings, is suitably all-encompassing.
More specifically, festival director Jane Sullivan concludes that the predominant themes this year are "youth" and "death." The two don't usually go together, fortunately, unless you're a war president or one of the unembedded filmmakers chronicling his on-the-ground accomplishments (see Caught in the Crossfire review).
A more optimistic pairing of the two themes is found in Stephen Sotor and Trace Gaynor's Genie in a Bottle Unleashed, a brilliant and loopy film about the making of the atomic bomb shot by two kids on their summer vacation (see feature). The film got a standing ovation at the United Nations and is winning fans on the festival circuit. Now, if they'd just come up with a tag line for it . . .
The Santa Cruz Film Festival runs May 5-11 at the Del Mar Theatre, 1124 Pacific Ave.; the Attic, 931 Pacific Ave.; and UCSC's Digital Media Theater. Schedule and information at www.santacruzfilmfestival.com.
Send a letter to the editor about this story.