May 3-10, 2006
home | metro santa cruz index | movies | current reviews | film festival preview
2006 Santa Cruz Film Festival
intro | 'In Memory of My Father' | 'Apparition of the Eternal Church' | more festival notables | 'Genie in a Bottle Unleashed'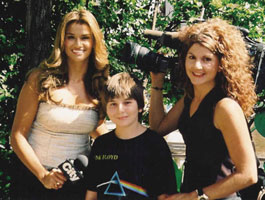 Stephen Sotor with media hangers-on in Toronto.
Kids Film the Darndest Things
Tweener filmmakers contemplate the atomic genie, documentary filmmaking and the challenge of finding kids who look like Hitler and FDR
By Bill Forman
It's unusual enough that two Chicago-area sixth-graders set out to make a documentary about the development and dropping of the atomic bomb, events that occurred some half-century before they were born.
But what elevates Genie in a Bottle Unleashed from novelty to milestone is the lengths to which Stephen Sotor and Trace Gaynor went to make it: tracking down and interviewing an original Manhattan Project scientist, the artist who created the famed Doomsday Clock, the mayor of Nagasaki and, in a bit of artistic license-taking, the atomic genie that was long ago let out of his bottle (said genie currently resides, according to the film, at 860 Lake Shore Drive). The resulting short-form documentary earned a standing ovation last year at the United Nations, where it proved so popular that a second screening was immediately scheduled.
"If we were older--if we were like 25 or something--I don't think it would have made it this far or sent the same message," says Trace in a phone interview from his friend Stephen's home in Elmhurst, Ill. "Because of our age, it shows that our generation actually cares about our future."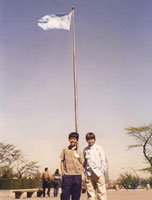 Sotor and partner Trace Gaynor outside their screening at the United Nations.
So how exactly did Trace and Stephen start off on this filmmaking career? "OK, well, one summer we were kind of bored and we didn't have anything to do," recalls Trace, who conducts interviews and composes background music while Stephen does the shooting and editing. "Mrs. Sotor told us that there was a film festival, the Chicago Children's International Film Festival. We had a camera and computer, so we started fooling around and coming up with ideas."
Collaborating with another schoolmate, the duo quickly filmed A Tween's Life, whose subjects range from a boy with a rare genetic disease to a girl who tells how her dog once ate her glass eye. Screening at a half-dozen film festivals, the film reached as far as Melbourne, Australia.
"We love entering festivals," wrote Stephen in his Santa Cruz Film Festival entry letter, wherein he also proclaims the duo's status as indie filmmakers: "Our film is not a school project," he declared, "we do our films on our own."
Trace says the breakthrough for this latest film came when they interviewed the artist Martyl. The widow of Manhattan Project physicist Alex Langsdorf, she became legendary for her creation of the Doomsday Clock, the powerful symbol through which the Bulletin of the Atomic Scientists each year announces how close the world is coming to nuclear annihilation. It was through Martyl that Trace and Stephen gained access to a number of their film's other subjects, including Al Wattenberg, a former Manhattan Project scientist who worked with Enrico Fermi on the first nuclear reaction; Leon Lederman, a Nobel Prize-winning physicist and former director of Fermi Labs; and Bulletin of Atomic Scientists executive director Stephen Schwartz.
"Once we said that Martyl was in it, they all jumped in," says Trace, beginning to sound like a seasoned Hollywood dealmaker.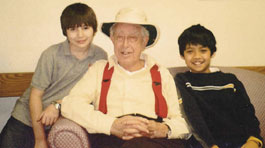 The duo with Manhattan Project scientist Al Wattenberg.
While Trace was racking up interviews, his cohort Stephen was scheming up ideas on how to dramatize what, in lesser hands, might have come across as a dry subject. A comment about Hitler and Roosevelt being engaged in a technological race sparked one such moment of filmmaking genius.
"We were brainstorming about what kind of clips we could use,' explains Stephen, after Trace hands over the phone. "We heard Martyl say it was a race, and I just thought it would be funny to dress up my friend Brett--we kind of tease him about looking like Hitler, because he has that hair. And my grandpa had an old wheelchair, and so we put my friend Brook in it, even though he doesn't really look like Roosevelt."
The result scene, in which Hitler and FDR go barreling down a track with the word "re-creation" appearing at the bottom of the screen, may well be the strangest image in the history of tweener cinema.
As for the idea of dramatizing the metaphor of the split atom as an unleashed genie, Stephen mumbles a bit before taking credit. "I don't want to toot my own horn, but that was my idea," he says. So all the weird ideas are his? "Yeah, kinda," he laughs. "I don't know, I guess I just have more of an abstract mind."
Stephen says his personal influences include the mockumentary This Is Spinal Tap as well as American Movie, the hard-to-believe-it's-really-a-documentary tale of aspiring but clueless Wisconsin filmmaker Mark Bouchard. "We actually went on his website and ordered his Coven movie, and it came in the mail," he says. "It's really kind of weird."
Asked their advice for grade-school directors who'd like to follow in their footsteps, Stephen says, "Just pick up a camera and see what you can do. Young minds are so creative, they can think of all different things with influences like video games and TV. Like, if you think about it, from the amount of TV kids watch, think of how many camera angles and shots they see. So you say, 'Oh, I saw that on TV and maybe we can try it.' Just be creative, take some editing classes and see what you can do."
Trace concurs with his cohort: "Just look around and see what you find interesting. Then just research it a little bit, see who's in your neighborhood that you could talk to that knows anything about your topic. Just start and see where it leads you."
As for their next feature, the duo has already interviewed former astronaut/senator John Glenn and Center for Defense Information director Theresa Hitchens. "It's about weapons in outer space," says Trace, "which, unlike the atomic bomb, can be prevented if people learn about it. Which I think is better. Because the atomic bomb already happened, we were just informing people about what happened. But with this film, it can actually prevent something before it even starts."
The SCFF screening of Genie in a Bottle Unleashed takes place Tuesday, May 9, at 6:30pm at the Attic.
---
Short Takes
Genie in a Bottle Unleashed is one among dozens of short subject films that have become an integral part of the Santa Cruz Film Festival. While short films have their own Oscar category, they still have relatively few opportunities for exhibition. Following are a few more of this year's festival shorts that are worth catching.
Vagabond Shoes Have you ever noticed that the street people in Hollywood are much better looking than the population of America as a whole? It's true. What's more, the same appears to be the case in London, where director Jackie Oudney sets this shaggy Pygmalion story of a handsome vagabond who gets an opportunity to infiltrate the tux and gown set. (Saturday, May 6, 12:45 pm, Del Mar)
Spin In addition to this year's best tag line ("Two turntables and a time machine"), director Jamin Winans' short offers up a great premise: A mobile DJ who can use his equipment to manipulate real-time events stumbles upon a busy street scene where a series of chance occurrences add up to urban tragedy. His attempts to remix reality make for not only an entertaining film but also an interesting meditation on the nature of causality. (Sunday, May 7, 9pm, Del Mar)
Badgered Great minds think alike, so it's no surprise that this animated short was accepted by the Santa Cruz Film Festival right before it received this year's Oscar nomination. Working in the international tradition of dialogue-free animation, American director Sharon Coleman offers up the tale of a badger whose sleep is endangered by noisy birds and pesky missile silos. (Tuesday, May 9, 12:30pm, Del Mar)
--Bill Forman
Send a letter to the editor about this story.