May 3-10, 2006
home | metro santa cruz index | music & nightlife | interview/preview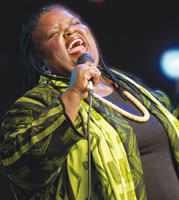 Happy Birthday, Baby: Sista's not just doing it for herself.
A Lioness Transformed
Sista Monica rediscovers her soul
By Paul Davis
She may be known as the "Blues Lioness," but in the past few years Sista Monica Parker has come to use a new term to describe herself—a "Soul Survivor." Having successfully recovered from her 18-month battle with synovial sarcoma, a rare form of cancer she was diagnosed with in 2002, it's a term that conveys the redemption and solace she found in her music during that time, and the effect her struggle had on her musical outlook and approach.
"Something's shifted in me, and I consider myself a 'soul survivor' because I got my soul back," Parker explains. "I kind of died through all the treatments and the chemo, losing my hair and the identity of a strong sassy woman, and became this other person that's not locked into a genre, and more locked into giving a positive message. I have a huge platform to be able to speak of good things and to share the love."
Parker sees what she went through as "an illustration for me of my own stagnation and my hearing a call but not paying attention or doing anything about it," Parker adds. "Before, the big thing was to prove myself to be strong and sassy and sort of witty, and I think the transformation that has happened for me is to be woman enough to show by vulnerable side, my sensitive side and my sense of personal power and compassion."
Monica believes this transformation has made her more developed and well-rounded as an artist, and that this change accounts for her recent nomination for the W.C. Handy Blues Award for her latest album, Can't Keep a Good Woman Down. "The latest CD I have, which got me this nomination, came out of living my experience in a different way," Parker says. "The music still has the strength and the power in it, but it has a certain amount of softness to it."
In addition to receiving a 2005 award from Santa Cruz County for her musical achievements and charitable work, Parker recently performed at the legendary Lionel Hampton Jazz Club in France—yet she retains a sense of humility and perspective. "While the awards are beautiful and make a statement about your accomplishments, they are also like icing on the cake, or sauce on the barbecue," Parker notes. "They're wonderful things to have, but I have to say that music for me has become more of a source of healing for me. I'm just happy that people acknowledge it and they get it."
Trading on her well-earned renown and armed with a renewed sense of personal and social responsibility as an artist, Monica has made it a priority to use her platform to benefit social causes. Her upcoming 50th birthday celebration show will also serve as a benefit for AIDS-inflicted children in South Africa..
"While I sing blues, soul and uplifting gospel music, the truth is that there is another, more compassionate side of Sista Monica who says, 'Don't just sing it, do something about it.' I can't just sit around and watch this ... in this case these are South African orphan children with AIDS and HIV that look like me." Benefiting the Y.A. Flunder Foundation's relief efforts, money earned at the show will directly fund medical supplies and efforts to build farms in South Africa, thereby providing the orphans with a self-sustainable food supply.
Joined by the Delgado Brothers and the City of Refuge Church's gospel choir, Monica emphasizes that while the event will be a soul-stirring celebration of life, it will also benefit the disenfranchised, a dual purpose that has become a high priority for her since emerging from her own struggles.
"I've been given so much favor musically—15 years ago, I really did not think that I would have the level of success that I've had," Parker says. "With that, I could continue to go on and turn a deaf ear when it comes to these social crises, but I think that as a community person and a person with spirit, it really is upon me to utilize whatever celebrity I have to rally people of like minds and like hearts to do something about these crises."
Sista Monica's 50th Birthday Benefit Concert begins at 7pm on Saturday, May 6, at the First Congregational Church, 900 High St., Santa Cruz. Tickets are $20 and are available at Streetlight Records and Gateways Bookstore; www.sistamonica.com.
Send a letter to the editor about this story.