May 3-10, 2006
home | metro santa cruz index | santa cruz county restaurants | review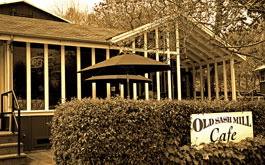 Photograph by Leyna Krow
Everything Old Is New Again: A recent ownership change has brought new life to an old favorite.
Solving the Eggs Essential Dilemma
The Sash Mill Café makes a perfect prequel to a day of wine tasting
By Selene Latigo
We have one rule that we always try to follow when embarking on a day of wine tasting: Eat breakfast. Actually, there are two rules, but describing a day of gulping down water to stay hydrated is less exciting. A full complement of protein, fat and carbohydrates can only help during a lengthy vineyard journey, soaking up some otherwise excessive sipping. I've learned my lesson well and prefer to nourish myself with a hearty beginning as opposed to the discomfort that can result from one too many tastes of wine and nibbles of Brie on an empty stomach. On Saturday we stopped off at the Sash Mill Café to load up on all of the food groups for our long wine tour ahead.
A recent ownership change has brought some new touches to this restaurant in the historic Sash Mill. Walls of tall windows on all sides create a bright space, with high ceilings, wood floors and a barnlike openness. Cheerful yellow walls showcase several stunning floral photographs, and a steady stream of customers filled the dining room with a weekend morning buzz.
We took a seat, inheriting some of the last couple's Chronicle, all of which Dave hogged, so I perused the short specials board including blueberry French toast, turkey omelette and buckwheat pancakes. The somewhat confused roles of hostess and server left us without regular menus, so I grabbed some from the counter to begin the decision-making process. Only brunch is served on Saturdays and Sundays, which appears as a limited version of the more extensive takeout menu. The classic brunch items include a choice of coffee, tea, milk or juice all reasonably priced, although I also noticed that there were several cost inconsistencies between the two menus. Basic breakfasts and a few sandwiches are offered on this weekend menu as well. The very friendly, all-female cooks and servers amicably chatted with each other, making the place feel welcoming and genuine, despite the slight rockiness in service.
Our drinks arrived soon after placing our orders; coffee for Dave and a "London black" loose-leaf tea for me, served with a tiny pitcher of cream for each of us. We leisurely read the paper and enjoyed the sunlight pouring through the panoramic windows while waiting for the "order up!" exclamation from the kitchen counter a few feet away.
My California Benedict ($8.95) was like a photo out of a cookbook. The perfect over-medium poached eggs were doused with a bright, light and subtle hollandaise and perched atop a generous medley of lightly tomato-sauced artichoke hearts and slices of avocado. The artichokes were not the greasy marinated kind that I expected, but instead held their own with a preferable firm bite. The English muffin at the bottom added some textural contrast and acted as an effective sponge for every flavor. However, the cafe potatoes that accompanied the heaping Benedict were pale, under seasoned and somewhat boring.
Dave ordered the house-made corned beef hash and eggs ($8.25) that was listed on the takeout menu as $2 less. Large chunks of nicely grilled and seasoned corned beef were scattered along with small cubed red potatoes on his oval platter. These potatoes were much more flavorful and crisp compared to mine. The hash was a simple variation as opposed to other versions containing different vegetable bits, but Dave enjoyed the purity, as well as the skillfully timed easy eggs that jiggled on top. He also ordered a side of hash browns ($1.75), wanting to sample the best of both worlds. They were evenly golden brown and slightly crisp, with tender potato creaminess inside. His wheat toast was sturdy, pleasantly dense and slathered with salty melted butter. I know because I stole a triangle of it to scoop up the last of my saucy eggs.
As we were getting ready to depart on our wine expedition, a large party of close to 20 started trickling in. I'm glad to see the patronage of the Sash Mill Café starting strong in this somewhat off-the-beaten-path location. With some time and a few improvements in flow, this could quite possibly be the newest on the list of Santa Cruz breakfast destinations.
---
Sash Mill Café
Address: 303 Portrero, Santa Cruz
Phone: 831.457.9222
Hours: 7:30am-3pm Mon-Fri, 8am-2pm Sat-Sun
Price Range: $4-$9.
Send a letter to the editor about this story.