May 3-10, 2006
home | metro santa cruz index | columns | nūz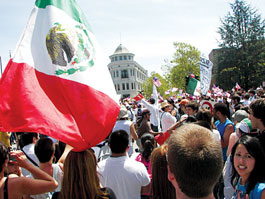 This Land Is Our Land: Thousands gather downtown in support of immigrants' rights.
Nūz: Santa Cruz County News Briefs
A Day Without an Undocumented Worker
Hey, remember that thing a while back where everyone was all upset about proposed legislation to crack down on undocumented immigrants? Well, apparently that hasn't exactly blown over yet.
Nüz deftly inferred that immigration reform is still a hot topic here in Santa Cruz when several thousand protesters waving both Mexican and American flags marched past the Metro Santa Cruz office early Monday afternoon. The demonstration, which was the largest the city of Santa Cruz has seen since our proud nation began bombing Baghdad in March of 2003, began on Pacific Avenue, and culminated with a rally at San Lorenzo Park.
At the intersection of Pacific and Water, protesters were joined by several hundred students from UCSC, who brought bikes, drums, banners and the unwavering enthusiasm of the young bourgeoisie, adding to the already eclectic and festive atmosphere of the event.
Dubbed A Day Without Immigrants, Monday's demonstration follows a series of well-attended rallies across the county, including sizable student protests in Watsonville. The march was part of a planned countrywide walkout aimed at garnering national support for immigrants' rights.
Hotels vs. Potholes
A little bit of big business goes a long way, according to Santa Cruz City Manager Dick Wilson, who spoke to the General Plan Advisory Committee at their meeting last Thursday. But for the city of Santa Cruz, it may take more than just a little big business to offset our financial woes.
Wilson began his presentation with a brief history lesson in city finance, capturing the full attention of the room on a night dedicated to discussing future economic strategies for Santa Cruz's next general plan.
After the Loma Prieta earthquake, Wilson told the committee, Santa Cruz survived financially even with its downtown ravaged thanks to a few major tax generators, including car dealerships and the Seaside Company, which remained intact and open for business.
Even so, prior to the quake, in the 1980s big sales and property taxes weren't crucial for covering the city's budget because the City Council could--and did--vote to raise income taxes three times to pay the bills.
Since then, however, the law of the land has changed; now only voters can raise taxes.
Wilson suggested to the committee that in the 1990s, the dotcom bubble sustained Santa Cruz, but since the bubble has burst, the first half of this decade has seen local revenues plummet in jurisdictions statewide.
"The big part of the crush I think we've swallowed in the last five years," Wilson assured the group. "But we've taken up to 20 percent out of almost everything [in the budget] that's not police and fire."
As it stands now, he warned, public safety accounts for about 55 percent of the general fund for Santa Cruz. Historically, it's hovered around 45 percent. This increase will make it difficult for the city to continue to maintain Santa Cruz's many beloved parks and greenbelts, or even fix nagging problems like potholed roads (although the street in front of Nüz's apartment was recently repaired, much to our surprise and delight).
"We need $20 million to make our streets adequate--not good, but adequate," Wilson insisted, adding that the longer the city waits, the more expensive the job will be.
But without raising taxes or banking on another tech boom, Santa Cruz's streets are unlikely to get the attention they deserve, unless, of course, we're willing to let new businesses into town. Wilson suggests more hotels, which produce far more tax dollars than retailers and have done wonders for Monterey's general fund.
Fortunately for the potholes, however, in Santa Cruz, big hotels are about as popular as earthquakes.
The next meeting of the General Plan Advisory Committee is scheduled for May 11, 7-10pm, in the Police Community Room at 155 Center St., Santa Cruz.
Everyone Loves a Sequel
Following the success of her 2004 photo-documentary Transfigurations: The Making of a Man, which chronicles the experiences of transgender men, local photographer Jana Marcus is preparing to debut part 2 of the show this week at The Attic.
Titled The Making of a Woman, the exhibit is about men in various stages of becoming women.
Inspired by the heightened public awareness of the transgender community in Santa Cruz over the last decade, Marcus undertook the project hoping to find a few volunteers to share their experiences with her. But as word spread among the community, so to did the popularity of the project and Marcus quickly found herself with numerous willing participants.
The project combines photos of transgender women in various stages of transition accompanied by interviews about all aspects of transgender life, from surgical modification to relationships with friends and family. These interviews provide an intimate glimpse into what it is like to re-create oneself from scratch.
The photos themselves are simple, uncluttered portraits taken in Marcus' Santa Cruz studio.
"The more I learned about the complexity of gender issues, the simpler I wanted the images to be," states Marcus in a written introduction to her exhibit. "I wanted each person to be seen simply as a human being, no different than you and I."
An exploration of body, self and notions of femininity, "The Making of a Woman" recounts not only the physical changes of Marcus' subjects but also explores the inner workings of male-to-female transition as they decide what kind of women they hope to be.
"Transfigurations: The Making of a Man" will be on display from May 1 until June 30 at the Attic, 931 Pacific Ave., Santa Cruz.
Nūz just loves juicy tips about Santa Cruz County politics.
Send a letter to the editor about this story.