April 26-May 3, 2006
home | metro santa cruz index | music & nightlife | mūz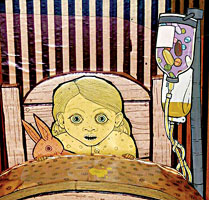 Hide and Go Sick: Koak and Kevin Krueger get ill at the Hide Gallery.
Mūz
Keak 'n' Koak
By Bill Forman
IT'S GOOD TO BE KEAK: Outside the Catalyst Friday night gathered a throng of Keak Da Sneak fans, a number of whom had made the trek down from Oakland, as well as an enterprising (or perhaps just start-struck) clerk from a shop just down the street who was eagerly offering Keak's crew free Oakland A's hats if they'd just come by. "They don't even have to come by," he said finally, "just let me get their hat sizes and I'll bring them to you." Plus, he pointed out, they're new designs, just came in that morning.
It wasn't always like this. Before his single with E-40, Tell Me When To Go, became the anthem of the Hyphy Nation, Keak was just another Bay Area rapper with some guest spots on Mac Dre records and a half-dozen of his own albums that barely sold beyond outside the Bay Area.
But what a difference a hit makes. Headlining the Catalyst twice already this year, Keak is enjoying rising ticket prices and a growing fanbase. In addition to "Tell Me When to Go," he's also getting recognition for 3 Freaks, the new DJ Shadow track featuring both Keak and Turf Talk, who also took the stage at Friday's Catalyst show.
After being worked up by taunts to the effect that Santa Cruz might not be hyphy enough to bring on Keak, the audience went wild when the man himself stepped onstage--he and his crew resplendent in bright new Oakland A's caps--and launched into an upbeat, crowd-pleasing set, his voice sounding a couple octaves lower than it did when his old group, 3XKrazy, was signed to Virgin.
It wasn't much more than 20 minutes before he'd trotted out an extended version of "Tell Me When to Go," a request that proved unnecessary since the massive digital clock at stage right was all Keak needed to know when he'd hit the 30-minute mark. Then, boom, off the stage, back on the bus.
Of course, it wasn't that long ago that Keak himself was growing up in Oakland--his parents brought him there from Alabama at the age of 6 months--so if he's reaping some benefits these days while chilling with the dogs, goats and cows on his pop's farm up in Sacramento's Del Paso Heights neighborhood, who can blame him? Even so, I couldn't help thinking how much more time the kids driving back to Oakland would spend in their cars compared to the amount of time Keak gave them onstage.
KINKO DE MAYO: There are many ways to celebrate Cinco De Mayo, but the least normal may well be the opening party for the Sick Bed Blues exhibit at the still relatively new Hide Gallery on Front Street. Local artist Koak, who was featured in Metro Santa Cruz's MySpace cover story after Rupert Murdoch and his boys pulled the plug on some of her more explicit works, and Kevin Krueger will be showing works in cardboard, wood and mixed media. The evening gets under way at 6:30pm, with tasty snacks and live music by Emily White and Hod. In keeping with the installation's title, expect at least one Skip James cover.
Send a letter to the editor about this story.