May 3-10, 2006
home | metro santa cruz index | music & nightlife | music preview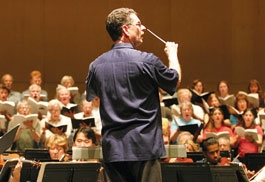 Cue the 800 Voices: Larry Granger conducts the Cabrillo Symphonic Chorus in what promises to be the symphony's largest 'spectacle' to date.
The Composer as Lightning Rod
Santa Cruz Symphony takes on the rarely performed 'Requiem' by Berlioz, one of music's most controversial geniuses
By Scott MacClelland
"Berlioz says nothing in his music, but he says it magnificently."
--James Gibbons Huneker
Georges Bizet's post-mortem salute to Hector Berlioz acknowledged him for his "genius without talent." Richard Wagner described him as "devilishly smart." Maurice Ravel called him "the worst musician among the musical geniuses." Claude Debussy dissed him as "a monster ... not a musician at all."
Love him or hate him, Berlioz's reputation as one of the great lightning rods of musical history remains alive and well. And the Santa Cruz County Symphony is about to produce his most flamboyant work, the Grande messe des morts--the Requiem--an event so spectacular and so rare as not to be missed. (Take note, there is only one performance.)
A clue to Berlioz's ideas about the famous Tuba mirum sequence is his complaint that Mozart used only one trombone in his mass for the dead when 100 of them would be more appropriate for calling all souls to judgment. Berlioz's Tuba mirum seems determined to awaken the dead of all time. While the 80-minute work begins in pianissimo depths, the subsequent Tuba mirum calls on the full orchestra and chorus--including extra sets of timpani and four additional brass bands (arrayed in this case at the cardinal points of the Civic Auditorium compass)/ The Rex tremendae and Lacrymosa reprise these thundering forces. Nothing like it had ever been heard before, and it would inspire imitation by no less than Giuseppe Verdi when he produced his own great Requiem mass, 37 years later.
Conductor John Larry Granger describes this performance as the Symphony's largest "spectacle" to date. "The work will be scaled back from the composer's intention of having up to 800 voices in the chorus!" Granger exclaims with feigned shock. "Even so, the large forces of the Cabrillo chorus and a percussion section of 10 kettledrums, eight cymbals, bass drum and gong should pack plenty of punch."
Despite the hostile opinions he aroused among 19th- and 20th-century musicians and critics, Berlioz's music is both powerful and unforgettable. The special effects are dramatic, bordering on fantastic, and one can take the melodies home in one's head. Berlioz wrote no significant music that was not programmatic. His concert works--Symphonie fantastique, Harold in Italy, Romeo and Juliet, Damnation of Faust and Les nuits d'été are only the most famous among them--invariably follow narrative or pictorial images, while his operas, Benvenuto Cellini, The Trojans and Beatrice and Benedict, take their musical cues from the text of the librettos. One cannot hear the Requiem without conjuring up images of the last judgment in paintings and frescoes from the Renaissance.
"Berlioz was hardly known for understatement," Granger says with understatement. "Yet, the bombast of the Tuba mirum, Rex tremendae and Lacrymosa are contrasted by some marvelously lyrical passages like the a cappella Quarens me and the polyphonic chamberlike writing of the Offertorium. Perhaps the most celestial sounding moments occur in the Sanctus, sung by tenor soloist Richard Johnson alternating with the women's voices of the chorus."
In recent seasons, the Cabrillo Symphonic Chorus has joined the Symphony in Beethoven's Ninth Symphony, Dvorák's Stabat Mater, Orff's Carmina Burana, choral scenes from Kirke Mecham's opera John Brown and Brahms' Ein Deutsches Requiem. "It's always a pleasure to work with Cheryl Anderson and her wonderful group," says Granger. "We have done some amazing things together over the past years. I think the Berlioz promises to set a new mark for beauty and grandeur in a single evening."
Award-winning tenor Johnson, a Texas native, appeared as a soloist in the Dvorák Stabat Mater production of 2004 and this season is touring with the Santa Fe Opera.
In a letter to Humbert Ferrand, in 1867, two years before his death at 66, Berlioz wrote, "If I were threatened with the destruction of all my works but one, I would beg mercy for the Messe des morts."
The Santa Cruz Symphony and Cabrillo Symphonic Chorus perform Berlioz's Requiem on Saturday, May 6, at 8pm at the Santa Cruz Civic, 305 Church St., Santa Cruz; 831.479.6100.
Send a letter to the editor about this story.