May 3-10, 2006
home | metro santa cruz index | music & nightlife | interview/preview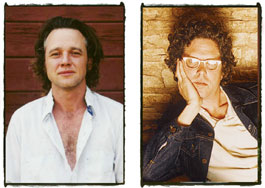 Notorious Hawk Brothers: Fans feared Olson (left) and Louris might never play together again.
Not Quite Your Parents' Jayhawks
Marc Olson and Gary Louris reunite for acoustic tour
By Paul Davis
When Mark Olson closed the door on folk-rock innovators the Jayhawks 11 years ago, abandoning the band he formed with fellow guitarist and songwriter Gary Louris in 1985, he did it with a resounding thud, leading many to suspect that Olson and Louris might never share a stage again. Frustrated with the band's internal strife and inability to receive the attention they deserved amid the fickleness of major-label politics and pop tastes, Olson retreated into self-imposed obscurity, moving to a farm in Joshua Tree and recording traditional folk albums with his wife, folk singer Victoria Williams.
Still, Louris continued with the Jayhawks name, eschewing the alt-folk sound that they had developed together for a larger guitar sound and experiments with electronic textures, and releasing a number of albums that failed to ignite the fierce devotion inspired by earlier releases such as the Olson and Louris-penned 1992 release "Hollywood Town Hall." During this time the songwriting duo's legacy grew, serving as a major influence in the developing alt-country scene in which bands such as Wilco made their name. Though Louris continued to release albums under the Jayhawks name, longtime fans and new recruits longed for the signature interplay of Olson and Louris' songwriting and harmonies.
When Olson and Louris announced a short 2005 tour, fans were shocked, and speculation quickly turned to whether the two would reform the Jayhawks and release a new album. A year later, the songwriting duo have reunited yet again--but true to the laid-back nature of the band, the two seem less concerned than their fans with the title under which they are performing. Olson is particularly unconcerned with how they bill themselves, emphasizing his enthusiasm just to be playing again with his old band mate.
"Basically we're doing a bunch of songs we wrote together, a number of songs we never recorded together and new songs Gary did since I left the band," Olson explains. "It's a full spectrum of our different musical endeavors, from all the years we've been playing music; we're just grabbing songs from here and there. It's just him and I, which is kind of nice. We can just get up and play the songs, and the listeners will be able to hear the lyrics and everything."
Though Olson made a number of grand pronouncements in the early years following his split from the Jayhawks, time has mellowed his perspective. Having once publicly derided the pop/rock sound that he and Louris developed as being disposable, Olson now shies away from such blanket statements. "I've said a lot of things, and I don't know if they're true," Olson states. "I like acoustic music more than rock music now, but I don't know if I could say if one has longer legs than the other."
While the signature sound of the Jayhawks has earned the band an iconic legacy in the Americana music genre, Olson doesn't feel hindered or limited by his past, and feels honored by the influence the band has had on contemporary acts. "I'm glad I was in something that got to a point of recognition; most musicians never get there," Olson says. "When I hear that sound in some of the bands today, I have to say 'whoa.' It's interesting, I was in England last year and there's a lot of English bands playing Americana now, instead of before, where it was once American bands trying to play English music. There's a lot of new bands that I really like--I don't know if it's ever going to be really popular on a big level, but it's what I like to listen to."
As his solo work has hewed closer to a traditional folk approach, it's apparent that Olson has left the Americana rock sound that he and Louris defined for another generation. Instead, as evidenced by the two-man acoustic arrangement of this tour, his current musical obsessions inform his current work with Louris just as much as they do his new solo work. "I've gotten interested in British folk music, like Fairport Convention. If there's any influence, that'd be it--just as the British have gotten into American folk music. Sort of reverse regurgitation, I suppose."
Despite their enthusiasm for what is carefully being billed as the "Mark Olson and Gary Louris Together Again Tour," and the growing awareness of the impact the Jayhawks have had on modern alt-folk music, Olson stops just short of making any long-term promises to the Jayhawks faithful. "I'd be into doing another record at some point; we've talked about it," says Olson. "But right now he's going to do a record and I'm doing one of my own. Both of us have various things going, so we'll just work these tours in when we can."
Mark Olson and Gary Louris perform Saturday, May 6, at 8pm at the Rio Theatre, 1205 Soquel Ave., SC. Tickets $20; available at Streetlight Records or www.ticketleap.com.
Send a letter to the editor about this story.