May 10-17, 2006
home | metro santa cruz index | movies | current reviews | film review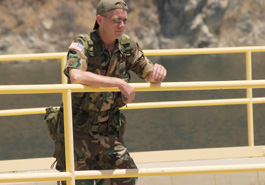 I Cover the Waterfront: L.A.'s water supply is under attack in festival closer 'Waterborne.'
The Final Days
Terrorism, pizza and other obsessions grace this week's Santa Cruz Film Festival offerings
By Richard von Busack
Nothing becomes this year's Santa Cruz Film Festival like the wrapping up of it. The last days include Wednesday's long awaited Pizza: The Movie. This documentary combines a history of nature's most perfect food with footage of the pizza-tossing championships in Italy. It's billed with a five-minute short, Frozen Food Section, dramatizing one folly of Charles Bukowski, thinly disguised as "Henry Chinaski," just as he was in every tavernaut's favorite movie, Barfly.
A series of a dozen local films brings up the rear, including the hazardous Bike Trip by Patrick Treft, in which a dreaming surfer careens down the Santa Cruz Mountains to get to the waiting waves. Vajra Sky Over Tibet is a film blessed by the Dalai Lama--positively the only such film playing in the area.
Kintaro Walks Japan is the account of how Tyler MacNiven crossed Japan on foot, a mere matter of 2,000 miles, from Cape Sata to Soya, Misaka. With the help of self-published postcards, this champion walker found free food, lodgings and friendship along the way. MacNiven's other feats have included campaigning for the position of Stanford student, with fliers, buttons and leafleting, in the hopes of circumventing the admissions office through plebiscite. A nice try, but it didn't fly. Eventually MacNiven got into UCSC, which everyone knows is more worthwhile than Stanford.
Thursday's lineup starts at 1pm with a trio of short films from Greece, Israel and Turkey. The Israeli film The Unbroken Circle is John C. Ludwig's documentary about a Hebrew and a Palestinian family who became friends when sons from either side were recuperating from war wounds in the hospital.
Wolfgang Bayer is a world-renowned wildlife photographer. His heart almost gave out during one of his many expeditions; Earthling (3pm) is an account of what happened afterward, during the Bayer family's subsequent trip to his favorite sites. Earthling's reputation for corniness precedes it, yet Bayer's ability to capture images in the wild makes up for a thick layer of family bonding.
If watching critters seems too fast and heart-palpitating, the 9pm Slomo Video Fest bundled into this year's SCFF at 9pm is more down-tempo, even though it includes 100 films by 85 filmmakers. The fest gives short filmmakers a chance to play spin the bottle with Time's Arrow. Baffled? Check www.slomovideo.com.
The final feature film in this year's festival is ex-Los Gatos filmmaker and NYU film school grad Ben Rekhi's Waterborne. (Rekhi was profiled in Metro Silicon Valley, Oct. 5, 2005, for his movie Car Babes,/i>.) Rekhi directed this lean and economical speculative-fiction piece about a terrorist attack on L.A.'s water supply. Violence breaks out within a couple of days. The already-on-the-edge marijuana dealer Bodi (Jake Muxworthy) is ready to lose his mind, despite the calming influence of his cousin Zach (Christopher Masterson, Francis from Malcolm in the Middle).
Despite Masterson's loose and likable personality, the center of the film is Ajay Naidu's Vikram, who acts with Old World gravity and liquid-eyed charm. (This Sikh character has been amusingly misidentified by both Film Threat and efilmcritic.com as an "Arab-American" and a "Middle Easterner," respectively. Fulsome praise by Harry Knowles probably softened the cultural nearsightedness.) The son of a convenience-market owner, Vikram is dating a slightly naive blonde American girl (Mageina Tovah), who doesn't realize that her bralessness is going to provoke Vikram's icily traditional mother. When the water shortage hits, the family store is attacked. Looting is shortly followed by a hate crime.
Rekhi's best work arrives about 40 minutes into this short feature film: a montage, styled after the baptism sequence in The Godfather, where Rekhi cuts from a Sikh prayer sequence to the attack on the store and to a fight breaking out at a hemp-smoking party. Here Waterborne leaves behind its modish, post-Soderbergh, tinted, snatch-and-run visuals and achieves a true fluidity. This sequence indicates bigger and better things for Rekhi. It also showcases maybe the most interesting aspect of Waterborne: as a minority-eye view of what it means to be faced with anti-Arab racism after Sept. 11.
Marketed as a terrorism movie, Waterborne may actually be more futuristic--the thought of what happens when L.A. runs out of water is scary enough for a dozen horror films.
Send a letter to the editor about this story.