May 17-24, 2006
home | the papers | metro santa cruz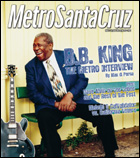 Music Interview: B.B. King
A candid conversation with the Santa Cruz Blues Festival headliner and reigning king of the blues.

News & Views
Could CalValidator and Diebold make California the next Florida or Ohio?
News & Views
A local labor leader challenges the planned hotel at La Bahia.
Nūz: Santa Cruz News and Politics
Is County Superintendent of Schools candidate Sandra Nichols a cheerleader for charter schools; business alliance to release minimum wage report; People power hosts rail and trail day.

Car Culture
Teaching Truck Driving: Columnist Novella Carpenter wipes away a tear as her protégé learns to take the big rig by herself.

Movie Review: 'Plagues and Pleasures on the Salton Sea'
Greetings from the Salton Sea: It's a septic tank, it's a wildlife refuge and it's a lot more.
Movie Review: 'The Devil and Daniel Johnston'
Rock, acid and the Church of Christ mix it up.

MORE MOVIE REVIEWS

SANTA CRUZ COUNTY MOVIE TIMES

Music Interview: Dave Alvin
The singer/guitarist retraces his roots and talks about his Santa Cruz Blues Festival stagemates Los Lobos, plus the rest of the fest.
Mūz: Santa Cruz Media, Music and Arts
Musings on media, music and the arts in Santa Cruz and beyond. A new documentary about the Minutemen reveals how three San Pedro kids changed the music world; plus Santa Cruz Film Festival winners.
Music and Nightlife Calendar Picks
Metro Santa Cruz critics write about the week's most interesting gigs.

MORE MUSIC AND NIGHTLIFE

MUSIC AND CLUBS LISTINGS

Restaurant Review: Whale City Bakery Bar & Grill
A Davenport destination for small town road food with a view.

BOOK A RESTAURANT RESERVATION

FIND A RESTAURANT REVIEW
Letters to the Editor: May 17-24, 2006
This week's letter 1; this week's letter 2; this week's letter 3.