May 17-24, 2006
home | metro santa cruz index | news | santa cruz | news article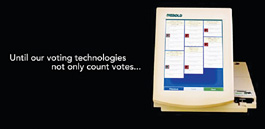 We Won't Rest, Part 1: A flash presentation on the company's website promises that Diebold 'won't rest until our voting technologies not only count votes. ...' (See next photo for tragicomic punch line.)
Is California the Next Florida or Ohio?
With CalValidator and Diebold both on board, the state races to get ready for the coming elections
By Tara Treasurefield
Before the 2004 election, Eve Roberson made the trek from California to Florida in order to help register voters in that pivotal battleground state; after that election, she helped monitor the Ohio recount. During those weeks in Florida and Ohio, she saw firsthand how burdensome regulations can, in fact, determine the outcome of an election.
A former elections administrator who now lives in Santa Rosa, Roberson dreams of a day when every eligible voter will use a paper ballot and the outcome of every election will accurately reflect each voter's choices. In the meantime, she's keeping a watchful eye on the electoral process, with voter registration and the questionable security of electronic voting systems dominating her attention.
One recent cause of controversy is CalValidator, Republican Secretary of State (and former Santa Cruz legislator) Bruce McPherson's system for verifying voter registration forms. Previously, it was county election officials, not the secretary of state, who ensured the accuracy of California's voter registration records. But in accordance with the federal Help America Vote Act (HAVA), McPherson assumed that responsibility in January. Since then, CalValidator has rejected tens of thousands of eligible voters.
"It's a barrier to voting," says Roberson. "It reminds me of what I saw in Ohio and Florida."
Here in California, McPherson has caused unnecessary delays in validating voter registration forms. HAVA requires a driver's license number, state ID card or last four digits of the Social Security card for every voter. Though this information is usually readily available in state databases, McPherson insisted that election officials obtain it personally in each instance from rejected applicants. Unlike McPherson, HAVA has no problem with election officials entering known ID numbers without first contacting applicants.
Another problem was that CalValidator rejected registration forms submitted by voters whose last names contain spaces or apostrophes, such as "de la Cruz."
In February, state Sen. Debra Bowen (D-Redondo Beach), who chairs the Senate Elections Committee and is the California Democratic Party's choice for secretary of state next November, joined county registrars in calling on McPherson to address the alarming rate of rejections for voter registration forms. But despite persistent complaints, McPherson initially intended to keep the regulations in place until after the June primary, explaining, "The need for changes or additions to the regulations may only become apparent once their functionality has been observed in the course of an actual election."
McPherson had also contended that existing federal and state law prevented him from making changes. But after weighing the matter, on April 18 the Legislative Counsel of California announced that nothing in state or federal law prevents the secretary of state from changing the regulations. McPherson relented.
CalValidator has since been adjusted so that it no longer rejects registration forms with names that contain apostrophes and commas. Also, elections officials can now enter missing ID numbers that are already available in state databases. But in heavily populated counties, the expected flood of new registration forms between now and the May 22 deadline, combined with the current backlog of rejected registration forms, is likely to force some eligible voters to use provisional ballots, which may not be validated in time for their votes to count.
In Santa Cruz County, as of last week, 150 registrations remained unresolved, or as County Clerk Gail Pellerin put it, "in limbo."
Meanwhile, voting system security continues to be a hot topic. Current concerns include certification of E-voting machines, the pros and cons of secret voting software and equipment and the reliability of recounts.
All three leading voting system vendors--Diebold, ES&S and Sequoia--have come under intense scrutiny across the nation. Problems in 2006 include faulty/uncertified software and equipment, late delivery of ballots and other essentials, inaccurate ballots and more.
Last September, Bowen addressed the software issues by introducing S.B.370, which is now law and requires all electronic voting machines to produce a paper trail. The California Association of Clerks and Election Officials opposed the bill, predicting time-consuming paper jams and other problems.
McPherson also opposed S.B. 370, and in February, he "conditionally" recertified the TSx, Diebold's electronic voting system, reversing a decision by deposed Democratic Secretary of State Kevin Shelley and baffling many.
What's baffling is that TSx doesn't comply with California law and violates the standards set by the federal Election Assistance Commission. In addition, the secretary's Voting Systems Technology Assessment Advisory Board found 16 security flaws in the Diebold machines, and the federal Independent Testing Authorities identified three security flaws and recommended code changes.
Bowen promptly urged McPherson to reverse his decision to recertify the TSx, but to no avail, and in March, the nonprofit group Voter Action sued McPherson and 18 counties, asking the court to reverse the secretary's decision. Since then, seven of the counties named in the suit have sworn off the TSx and the judge has excused them.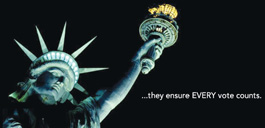 We Won't Rest, Part 2: Diebold's current website marketing appears to admit that their machines remain inaccurate.
About 25 percent of Santa Cruz voters use absentee ballots, which are counted by optical scanners. Bowen has held two hearings to assess absentee ballot procedures and optical scan systems and is planning a third for later this year.
For optical scan and electronic voting systems alike, California state Assembly-member Jackie Goldberg has introduced A.B. 2097, which requires voting system vendors to disclose all technical details, including source code, when applying for state certification. The bill also stipulates public testing of the machines and prevents the secretary of state from adopting a voting system until its operations are publicly disclosed.
McPherson, who opposes A.B. 2097, says, "Allowing unqualified, nonexpert access to source code and providing detailed instructions for building voting systems software could compromise the system security and result in the manipulation of elections." Bowen supports A.B. 2097, which is currently before the Senate Appropriations Committee. If this bill becomes law, it will become effective by June 30, 2007.
Regardless of the fate of A.B. 2097, Roberson believes California voters should avoid the controversial electronic voting machines, even if that means registering as Permanent Absentee Voters.
In spite of the pervasive problems with the electoral process, Roberson remains upbeat and has two words of advice for any citizen age 18 or over: "Register," she stresses, "and vote."
Send a letter to the editor about this story.