May 17-24, 2006
home | metro santa cruz index | music & nightlife | mūz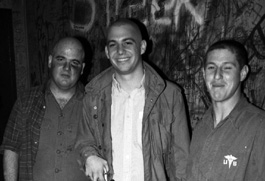 Photograph by Glen E. Friedman
Pedro's Finest: Young Minutemen Boon, Watt and Hurley
Mūz
They Jammed Econo
By Bill Forman
ONE REPORTER'S OPINION "It was kind of like having a hole where a heart was," says George Hurley of his band mate D. Boon's death in the film We Jam Econo: The Story of the Minutemen. That statement holds true for a whole generation that came of age believing a trio of working-class San Pedro kids could change the course of music, if not the world. And, in a way, they did. For me, just seeing them play once, on a bill with the Meat Puppets and Husker Du, was enough to place them in my pantheon of personal heroes. In his new feature length film, director Tim Irwin talked to members of both those bands as well as Henry Rollins, Flea, Ian Mackaye, Nels Cline, Richard Hell, Jello Biafra and John Doe--some 50 interviews in all--which he combines with lengthy excerpts from a 1985 Minutemen interview, current footage of former Minuteman Mike Watt reminiscing while driving around Pedro (he also shows us the tree that D. Boon fell out of during a game of war, landing on the 13-year-old Watt and thus beginning a beautiful friendship) and generous quantities of performance footage (since Minutemen songs tend to be short, he didn't have to do much fading out). In the end, you come away with a renewed sense of just how influential these three musicians were. As Watt says at one point, "Nowadays, you're kept in place more by your mind and more by the herd mentality than [by not] having the material and wherewithal to do things." Maybe We Jam Econo, which plays at the Rio Theatre on May 18, will inspire a new generation of DIY artists to ditch the herd and create from the heart.
SPEED FREAK It was kind of like the Oscars, except that the prize was an Intel dual-core MacBook Pro and the guy who won it, filmmaker Griffin Lamachy, gave an acceptance speech at the Del Mar Theatre in which he pointed out that it was worth more than the car he's driving.
Lamachy's Swimming From Memory was the winning entry in the Santa Cruz Film Festival's 5X5 competition, in which filmmakers convened at the Attic on a Saturday morning to be given this year's theme and then had five days to complete a short film relating to it. In this case, the theme was "surf and turf" and the filmmaker responded with an arty (you could tell because it was subtitled) short which seemed to be about a European woman envisioning her lost companion sitting on a California beach with his typewriter when, it turns out, he was actually killed in a war.
Or something like that. Anyway, Lamachy said the film festival contest's five-day schedule was pretty leisurely compared to the Cinemasports competitions he usually enters, where films have to be completed in just 24 hours. So with a sprawling schedule before them, he and his cohorts decided to make a serious film, instead of their usual ninja and nuns flicks in which, he noted, he usually ends up having to pay a nun.
Other Film Festival honors went to Tyler MacNiven's Best of Fest-winning Kintaro Walks Japan, which earned the UCSC grad-turned-reality TV star the highest votes in the festival's five-year history, and Evan Richards' In A Day, which won Best Narrative and is now off to the Cannes festival.
We Jam Econo: The Story of the Minutemen, Thursday, May 18, 8pm, $5. Rio Theatre, 1205 Soquel Ave., Santa Cruz; 831.423.8209. $5 at the door day of show.
Send a letter to the editor about this story.