May 17-24, 2006
home | metro santa cruz index | music & nightlife | preview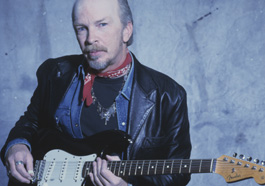 Photograph by Deone Jahnke
Hangs Out With Wolves: Dave Alvin recounts his adventures with Los Lobos.
The Rest of the Fest
Dave Alvin retraces his California roots with Los Lobos and Santa Cruz Blues Festival promoter Bill Welch. Plus, a rundown of this year's acts.
By Paul Davis
Though this is his first appearance at the Santa Cruz Blues Fest, Dave Alvin is no stranger to the Santa Cruz area, nor to many of the performers with whom he'll be sharing the stage at this year's fest. One of the most popular singers in regular rotation at KPIG, Alvin performs often at Moe's Alley, which just happens to be booked by festival organizer Bill Welch. Alvin says he and Welch share roots in the same Los Angeles club scene. "I've played at Moe's three times in the past few years, and I'm really comfortable there," says Alvin. "The metaphor for my last album was an old club in L.A. that's not there anymore, and Bill and I actually used to both sneak in there back when we were kids."
Appearing at the Blues Festival on Sunday, May 28, Alvin will share the bill with his old friends and occasional collaborators, Los Lobos. As it turns out, Alvin's ties to Los Lobos also go way back to the same L.A. club scene where he and Welch came of age.
"I've known Los Lobos forever. ... We know all of each other's dirty secrets!" laughs Alvin. "Back when I was in the Blasters, we gave Los Lobos some of their first real gigs in Hollywood.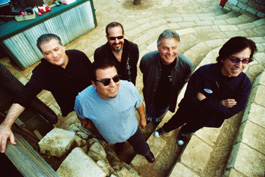 Something to Howl About: Los Lobos will take the stage on the second day of the festival.
"In L.A. there's a cultural divide between the East Side and the West Side," explains Alvin. "Lobos and the Blasters lived east of the Harbor Freeway, and the Blasters had succeeded in getting across the freeway. Still, it was really difficult if you didn't live in Hollywood or Beverly Hills; if you weren't socializing with the right crowd of people it was difficult to get high-profile gigs. Lobos came to us with this little demo tape of them playing rock & roll. We'd been familiar with them as an acoustic Mexican folkloric band, and when they showed up with this tape of them playing rock & roll and R&B, we said, 'You're on! You're in!'"
King of California
Alvin's latest CD, West of the West, finds the fourth-generation Californian (and former member of the Blasters, X and the Knitters) performing some of his favorite works by California songwriters and musicians, ranging from Tom Waits to the Grateful Dead to--yes--Los Lobos. The singer/guitarist says his celebration of California and its songwriting heritage has been a long time coming.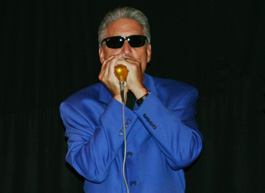 Frequent Flyers: Rod Piazza and his blues harmonica are a staple at Moe's Alley.
"The album is a celebration of California songwriters and all of the eclectic lore that surrounds them--it's been in my brain for 10 or 12 years," he says. "I'm getting older, I have to do everything I want to do now before the time runs out!"
Part of the challenge was deciding where to draw the limits. "I mainly chose people who had come out of roots music backgrounds, whether it be R&B, country, folk or whatever, because if you open it up to the pop songwriting world or jazz composition world, then forget it, you'd have a 87-CD set," says Alvin. "The main consideration was 'Can I sing it?' Because I'm not Pavarotti or Al Green. Not to say I blow chunks, but I'm no George Jones."
Working within those parameters, Alvin then focused on songs that were both representative of the original artist and lent themselves to being performed in a different manner than the original: "A couple of the songs felt really personal to me, the kind of songs that make you say, 'God, I wish I wrote that,' or 'Did I write that?' The first time I heard 'California Bloodlines' I was 12. I saw the songwriter John Stewart on an afternoon TV show, and it's a very firm memory in my mind. I'll never forget the first time I heard that song. It was very influential in the forming of my identity."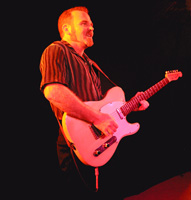 Hair Style: Mark Schermer is a little bit country and a whole lot of sideburns.
Projects like West of the West and events like the Santa Cruz Blues Festival give Alvin an opportunity to revisit his roots. "I'm basically sort of a frustrated DJ," says Alvin. "Part of what I like to do is turn people on to things, going back to my early days in the Blasters. When I started, I had no intentions of being a songwriter--we wanted to play old Howlin' Wolf and Junior Parker songs, and tell people, 'Hey, isn't this cool? Isn't this a great song?' That's still a part of me and this is just an extension of that."
Despite past impromptu collaborations at shows where Dave Alvin and Los Lobos have shared bills, Alvin is careful to not promise any crossovers with the Sunday night headliners at the festival. Of course, he doesn't rule out the possibility either. "We have collaborated during shows in the past. Last time I played with Lobos was at the Fillmore and at the end we had a big jam session. I don't want to be presumptuous, but you never know what will happen!"
Saturday Blues Fever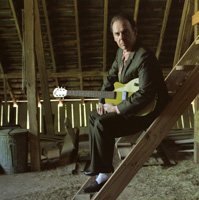 Dressed For Success: John Hiatt likes to look his best, no matter how casual the venue.
In addition to B.B. King, the opening day of this year's festival will features a number of blues heavy-hitters. Roomful of Blues hearken back to the swing sounds of a long-gone era. Practitioners of dance-friendly jump-blues, they boast an impressive horn section. And after 40 years in the business, the band's straight-up, no-frills dance grooves still come across as vital and arresting as they did in decades past.
Coco Montoya is an alumni of the legendary Bluesbreakers, which also spawned Eric Clapton, Peter Green and Mick Taylor. He earned his chops under the tutelage of Albert Collins and has since gone on to legendary status in his own right. This will mark the guitarist and vocalist's eighth appearance at the blues fest, cementing his festival-favorite status.
Rod Piazza and his Mighty Flyers should be familiar to most regulars at Moe's Alley. Piazza, whose blues harmonica performances are regarded as virtuosic and scorching, has appeared with many revered blues players, including Big Mama Thornton and T-Bone Walker. Plus, his forays into the spotlight with his supporting band the Mighty Flyers have earned him a monumental level of repute on his own.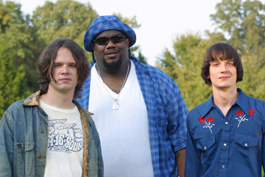 Roots Revival: The North Mississippi Allstars get out of the garage.
Opening the first day of the Blues Festival is Santa Cruz' own Mighty Mark Schermer, who made a name for himself with the '90s Santa Cruz blues band the Soul Drivers. Mixing traditional country elements with a bare-bones electric blues approach, Schermer's guitar licks have supported the likes of Maria Muldaur, Charlie Musselwhite and Bonnie Raitt.
Sunday and Beyond
Los Lobos and Dave Alvin's Guilty Men will take the stage on Sunday as part of a lineup that departs from past years by more blues-influenced rock and folk acts.
John Hiatt's music, for instance, may not immediately evoke the blues, though it quickly becomes clear that roots and soul music have contributed much to his wry and literate, carefully crafted folk songs.
The North Mississippi Allstars, who will also back Hiatt, have left their punk and garage-rock days far in the past. Still, the legacy of bands like the Replacements looms large over the North Mississippi Allstars' old-school country-rock and soul, giving the band enough punch to sound forward-looking yet nostalgic, as opposed to merely classic rock retreads.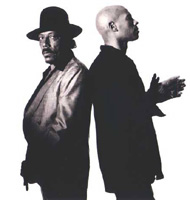 Get Down: The Boneshakers have got a beat you can dance to.
Opening Sunday's show, as well as performing the afterparty at Moe's Alley, are the Boneshakers. Arising from the '80s pop-funk act Was (Not Was,) the Boneshakers have relieved themselves of their earlier band's produced sheen in favor of sweaty blues, funk and R&B rave-ups. Despite their musical chops and collaborations with artists as diverse as Lyle Lovett, Bonnie Raitt and B.B. King, Randy Jacobs and Sweetpea Atkinson create a soulful and muscular dance groove that confounds their session-musician roots.
And, this just in: At least three blues fest bands will also be doing evening performances at Moe's Alley. Playing the room on Friday night will be Rod Piazza, followed on Saturday by Roomful of Blues and culminating on Sunday with an after-festival jam hosted by the Boneshakers, featuring Randy Jacobs, Sweet Pea Atkinson and, one suspects, a few special guests.
Send a letter to the editor about this story.