May 17-24, 2006
home | metro santa cruz index | santa cruz county restaurants | review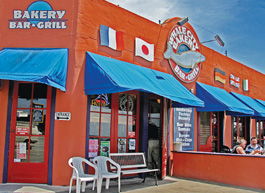 Photograph by Leyna Krow
Ample Seating: While whales may not fit through the front entrance, there is plenty of room for sea mammals on the patio.
A Whale of a Bakery
A quick drive up the coast yields greasy pleasures with a view
By Selene Latigo
Not that Santa Cruz is much of a bustling urban metropolis compared to some of our neighbors, but sometimes taking little trips outside of the bubble can illuminate, in a small way, how things used to be. A short ride up or down the coast provides a glimpse into the past, before clusters of real estate offices, traffic or even "the city on the hill" ever existed. Sometimes I get the itch to escape into a slower-paced world, even if just for a day. On Saturday, we hopped into the car and made the brief drive up to Davenport for a reminder of this unspoiled coastline and lunch at the Whale City Bakery Bar & Grill.
Without the crowds of day trippers meandering down the scenic Highway 1, Whale City would fit right in to the sleepy town routine of Davenport. I can imagine locals and regulars seated at the bar, sharing a beer and some small-town conversation or grabbing their morning coffee and a muffin before work. Instead, the constant stream of people lining up to order off the basic breakfast and lunch menu that hangs above the main counter, is most likely a deterrent for anyone who actually lives there.
Because we fell into the tourist category this weekend, we reveled in all of the charm and hefty portions of diner-style dishes that Whale City has to offer. We placed our order with the slightly (and understandably) impatient counter person, grabbed our two pints of Anchor Steam ($3.75) and crammed ourselves into the freshly vacated table directly underneath the flat-screen TV that was being used as a music source. Not that I have anything against Damion Marley, but needless to say, we jumped up and quickly switched tables once some front window seats were open.
Soon after, we heard our number and raised our hands for the server to locate us. She dropped off our heaping plates and bussed the remnants of the previous diner's lunch, leaving the fully stocked condiment caddie in place. Good thing, because it was a major component to my fish and chips ($9.75). The moist and delicate white fish strips were double dipped in a thicker than typical batter and fried, leaving them crisp and draped in this hearty coating. I enjoyed this technique, finding its stability a nice departure from the lighter coating one usually expects. The fries, however, were a bit deceiving. The huge basketful of light golden miniwedges looked like they would deliver a crunch, yet they lacked structure and were a bit limp. Still, some squirts of juicy lemon, sprinkles of malt vinegar and dunks in fiery horseradish flecked cocktail sauce made this a drive-worthy order of fish and chips.
Dave's giant bacon cheeseburger ($7.75) was "solid" in his opinion and featured ripe tomato slices, perfectly fried bacon, romaine lettuce, onion, pickles and a thick slab of melted cheddar on top of a wide medium-cooked patty. Since the burger didn't include fries, he ordered some on the side ($3.95) but was similarly disappointed in their texture.
After pushing my way through the line, the only barrier between the dining room and the bakery case, I gazed upon a multitude of muffins, pastries, cookies, cheesecakes and pies. Another case held several tubs of ice cream and there were even some challah and artichoke rolls along the wall. Even though the baseball-size cream puffs were tempting, I selected one of my all-time favorites despite the seasonal inappropriateness and headed back to our table with the generous slab of olallieberry pie held close. We found the filling to be evenly balanced between tart and sweet with soft, whole berries and teeth-sticking seeds. The crust, however, was like fresh pasta dough on the bottom; not soggy, but kind of raw nonetheless. The top crust was better, with a golden, oven-kissed hue, but with a somewhat dense and bready scalloped edge.
We left feeling fulfilled, having received a big, greasy lunch that was exactly as expected with ice-cold beer to wash it down. Whale City Bakery Bar & Grill offers small-town road food to those of us seeking just that--a soul-satisfying stop along this beautifully preserved coastline.
---
Whale City Bakery Bar & Grill
Address: 490 Highway 1, Davenport
Phone: 831.423.9803
Hours: 6:30am-7pm, daily
Price Range: $4-$10.
Send a letter to the editor about this story.