May 17-24, 2006
home | metro santa cruz index | music & nightlife | interview/preview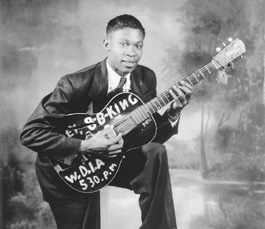 B.B. King
A conversation with the reigning monarch of the blues
By Alan di Perna
When he's onstage singing the blues, B.B. King will often take his hands off his guitar and repeatedly slam his right fist into his the open palm of his left hand, in the manner of an old-time gospel preacher. He does this to drive home some particularly poignant or pointed lyrical line. It's one of his trademark stage gestures.
The other one is this: He'll crisscross his hands at his heart, thumbs intertwined, his eight remaining fingers fluttering in the manner of a bird's wings. He usually plays this move for laughs--to impart an ironic undercurrent to some cutely romantic lyric line. But this gesture is actually just as gospel as the Bible-pounding fist--a sign of the Pentecostal dove, Christian believers' heart connection with their savior.
It's an odd thing to encounter onstage at a smoky Vegas lounge or roadside gin mill. But that juxtaposition of the earthy and the sanctified--showbiz glitz and the deepest depths of the soul--lies at the core of the life and music of the man born Riley B. King. He started out as a member of the Famous St. John Gospel Singers out of rural Indianola, Miss. And he never completely lost touch with those church roots--not even once he'd made his way to the bright lights and wicked ways of Memphis, reinventing himself as the Beale Street Blues Boy or just B.B. for short.
King was a major R&B star of the '50s and went on to play a key role in bringing the blues out of chitlin circuit blues joints and into rock & roll concert halls during the pivotal years of the '60s. He was a key influence of blues guitar icons like Michael Bloomfield and Eric Clapton, not to mention just about anyone who's ever picked up an ax and assayed the 12-bar idiom. He has become the blues' goodwill ambassador to the world, treasured by the music's aficionados but also loved by those who know absolutely nothing about the blues. Heck, most people are even on a first name basis with B.B.'s signature Gibson guitar, Lucille.
Last year B.B. King celebrated his 80th birthday with the release of B.B. King and Friends: 80, an album of duets that pairs the legendary bluesman with greats like Clapton, Elton John, Mark Knopfler, Roger Daltrey, John Mayer and Sheryl Crow. Bullfinch Press brought out a lavish coffee table book, The B.B King Treasures, and Gibson issued a special commemorative edition of the Lucille guitar. Despite the challenges of diabetes and assorted other maladies of advanced age, B.B. King still maintains a full touring schedule. The road has been his home for more than half a century, and, come Memorial Day weekend, it will lead him to Aptos Village Park as Saturday headliner at the 14th Annual Santa Cruz Blues Festival.
METRO SANTA CRUZ: Was the B.B. King and Friends album inspired by your guest appearance with Ray Charles on his Genius Loves Company, not long before Ray passed?
B.B. King: No, not really. And I'm hoping the outcome ain't the same! I told the record company: "Ray did that just before he died. But I ain't ready to go yet. So don't put all these people on my album expecting me to leave tomorrow." But I'll tell you this, we had fun doing it.
The album sounds very relaxed. The sense of interplay between you and the musicians suggests that a lot it was was cut live in the studio.
Yes, it was. I think I did everything live with everybody except for Sheryl Crow. And the only reason for that was she was having throat problems at the time we did the recording. So we made the track and she sang to it later. But I think it came out just as beautiful as all the others.
And it's always a pleasure to hear you play with Eric Clapton, someone you've worked with quite a bit in the past.
Eric's a smart guy. He's a good guy. His heart is as big as I am. A wonderful man and fantastic musician. He records very relaxed. When we get into something, he's really into it. But if it ain't working, he'll just stop. We won't record no more that day. And I ain't never had that happen to me before I met Eric. I respect him highly. And in my opinion, he is rock & roll's No. 1 guitarist. He stands at the top. And he plays the blues better than most of us.
Was it your idea or Eric's to use John Hiatt's song 'Riding With the King' as the title track for the album you and Eric made together in 2000?
That was Eric's idea. He suggested most of the songs. Because I don't like to pick my own songs for somebody else to do. So he picked them. I didn't disagree with too many of them. Anyway, Eric Clapton and the ladies can make me do almost anything.
Sometimes you just have to surrender to the impulse of the moment?
Well, you gotta be careful. Years ago I recorded Live in London [1971] with quite a few great English musicians. Ringo Starr was playing drums, and that was the first time I ever met him. Alexis Korner was on the record too. And he told me, "B. I got an idea for a song and we'll do it on acoustic guitars. I got two brand new Martin acoustics." So we went to his house and we kind of ran through the song a little bit. It seemed pretty good. But when we got to the studio he cut me to pieces. Man, he cut me like you would an onion. I told him, "As long as you live and I live, I ain't never gon' do this again." And he laughed at me. So years later, when we did Riding With the King, Eric said, "Let's do 'Key to the Highway,'" which is a song I like. But he said, "Let's do it acoustic." And I thought, "Oh no, I had this done to me before." But he said, "No, come on." And he talked me into it. We started doing it; I enjoyed it. The first take I did with an acoustic guitar. Tried it a few times. But I never did get the sound that I wanted. So I put the acoustic guitar down and picked up Lucille. And I ain't put her down no more. When it comes to the music I'm not Ray Charles, but if my name's on it, I want it to be done pretty good.
Another notable collaboration in your career was 'When Love Comes to Town,' which you recorded with U2 in 1987. Bono wrote you a pretty sanctified lyric for that one. A real gospel lyric.
Well, I am a gospel singer. I started out as a gospel singer and that's still my roots. I just love singing the blues. To me, there's a very thin line between the blues and gospel. I hear a lot of young people now and they are really into the gospel thing. But, boy, they be swinging better than anyone in R&B or jazz.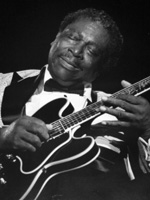 The Thrill's Not Gone: B.B. King and Lucille are still celebrating music's longest relationship.
'When Love Comes to Town' also put you in a very contemporary rock context. What was that like?
The first time U2 and I did it together in public I was scared half to death. It was in Ft. Worth, Texas. That's when we first introduced it. The Edge is a whole orchestra by himself on the guitar. He play chords of all kinds and I don't play no chords worth anything. And I was scared. I was like a cat with a dog in front of him.
But you guys got along pretty well?
Oh, I love them. I like tease them a little. But they are very talented people, very good people and very rich people!
Although you started out as a gospel singer, you made your recording debut as a blues singer, with 'Miss Martha King' in 1949.
That was my very first session. I did four sides for Bullet Records. Funny thing was I started recording for them, and about six or eight months after that they went bankrupt.
But those early sides definitely introduced your sound to the record buying public.
That's right. Let me explain how I got the guitar and amp on that record. One night I was coming out of Tennessee in my old Mercury coupe. When I say "coupe," that means it was supposed to hold five people. I must have had eight or 10 in there. Musicians had a hard way to go back then, tryin' to get transportation. And I'll never forget how a transport truck--I think haulin' fuel, like one of those big gas trucks--run into the back of me when I slowed down to cross a bridge. The driver said he wasn't payin' much attention. So the insurance money is what bought that guitar for me. First Gibson guitar I ever had. First amp I ever had.
It's interesting that 'Miss Martha King' has a sax and a trombone solo, but no guitar solo.
I wasn't good enough to play a guitar solo on that! No way was I good enough at that time. When I listen to what I was doing then, I can hear that I hadn't decided which way I was gonna try to go. I was just playin'. Not tryin' to have a style or anything. I was so happy to record that I would have paid them!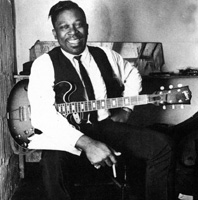 R&B Roots: 'Wasn't till much later they started calling my music blues,' says King. 'Guess I must've lost the rhythm somewhere!'
What we think of as the signature B.B. King vocal and guitar style really starts to emerge on 'Three O'Clock Blues' from 1951, which was your first No. 1 record and one of many classics you cut for Modern Records and its subsidiary labels.
At that time they called me a rhythm & blues singer. Wasn't till much later they started calling my music blues. Guess I must've lost the rhythm somewhere! And back then, there were only two or three small labels that was releasin' R&B. There was Don Robey [proprietor of the Peacock and Duke labels] out of Houston, the Chess brothers [Leonard and Phil] in Chicago and the Bihari brothers [Lester, Jules and Joe] who ran Modern Records out of Los Angeles. If a company like that could sell 100,000 records, man, that was a good thing going. And I did that many times. "Three O' Clock Blues" was the first one.
Pretty good for a track recorded at the Memphis YMCA.
Well, the Biharis had been cutting sides with Sam Phillips at Memphis Recording Services. But they got mad when they found out that Sam was also doing stuff for the Chess brothers. So we did that one at the YMCA. They set up one of those portable Ampex 600 tape machines. It was just a bare room. What they did was they got quilts and rugs and stuff that they hung upside the walls. They told me later that was to control the sound.
Another landmark recording of yours is the Live at the Regal album from your years at ABC Records. Many consider this the greatest B.B. King record of all time. What was so magical about that November afternoon in 1964 at Chicago's Regal Theatre?
To be honest, I don't know what happened! The crowd was all hyper like that as soon as we started playing. There was no "applause" signs or anything like that. Me and the band just went on and did what we always do. We just had the right crowd at the right time. They have voted that that was one of the 10 best recorded live albums. I won't dispute that. But then they say it's my best. And as long as they're positive, I won't dispute that. But if you ask me personally, I'd say no, I don't think it's the best. I think it's pretty good. I made almost 90 LPs and CDs. But I don't think I ever made a perfect one. But I do think in each one of them, there's some good work. I don't like to rehearse too much, where you milk something to death so it loses what made it good in the first place. I want a good sound, a strong sound--not a perfect sound. And when I play "The Thrill Is Gone" tonight, I'm not gonna try to play it like I'm recording it in '69. I wanna play it like I'm playing it today. Right now.
It's great that 'The Thrill Is Gone' is still in your repertoire. It's the one B.B. King song that everyone knows--probably your greatest hit.
"The Thrill Is Gone" is a [1951] song by [California bluesman] Roy Hawkins that I rewrote and carried around for three or four years, or maybe even longer. Any time I would try to record it, I could never get what I wanted. But then one night in New York, about 2:30 or a quarter to 3 in the morning, I had [drummer] Herbie Lovelle and [pianist] Paul Harris together with Hugh McCracken on [rhythm] guitar and Gerald Jemmott on bass. And we just hit it. I said, "Yeah, this is it." They were just four people that fitted me. I never played like that again.
And after the session, producer Bill Szymczyk decided to add that famous string section.
That's right. I was living in New York at the time. So after that session, I went home to bed. And at about 5:30, 6 o'clock in the morning Bill calls me. We'd only stopped recording close to 4 or so. And now here's Bill on the phone, all excited. "B," he says, "'The Thrill is Gone' is good!" See, he didn't like it at first, but then he got a chance to listen to it by himself. He said, "What would you think if I put strings on it?" I told him, "Go ahead." He was telling me, with the strings, it may go pop. So they got Bert DeCoteaux to do the string arrangement, which I caught hell for, incidentally. People said it wasn't the blues. Everybody says that's the first time I had strings on a tune. But that's not right. "My Heart Belongs Only to You" had strings. There were quite a few things that Maxwell Davis, who was my arranger at Modern Records, put strings on.
By the late '60s you'd broken through to a new audience. Young white listeners were getting turned on to the blues. What was it like the first time you played the Fillmore West in 1967?
When we first pulled up, I thought we'd come to the wrong place! I'd never played for a bunch of longhaired white kids before. I said to Bill Graham, "I gotta have something to drink." Bill looked at me strange and said, "We don't sell liquor here." I said, "I don't care. I want me a drink!" So he sent out and got a small bottle of some kind of liquor. I don't remember what. He sat me down in the dressing room and said, "B, when it's time to go on, I'll come back and get you." I was still very nervous. There was no tables or chairs in there, which I'd never seen before in a place where I played. People in there, they sittin' on the floor, or standin'. They was body to body. I couldn't understand that. I had never ever seen people together like that before. They was really ... I think serene is a good word.
So finally Bill Graham did come back to get me. Walking behind him to the stage, I had to watch not to step on anyone. People was sittin' everywhere, just talkin' quietly among themselves. When I got to the stage Bill gave me the best, and shortest, introduction I ever had. "Ladies and gentlemen ..." He said that and everybody got so quiet you could hear a pin drop. He say, "I bring you the chairman of the board, B.B. King." And they all stood up and applauded. And I cried. 'Cause it was very emotional to me. I ain't never had this happen before in my life. If there's any such thing as a crossover, that was the night it happened.
B.B. King headlines Saturday, May 27, at the Santa Cruz Blues Festival. Tickets available at Moe's Alley, Santa Cruz and Streetlight Records in Santa Cruz and San Jose. More info at 831.479.9814 or www.santacruzbluesfestival.com.
Send a letter to the editor about this story.