July 19-26, 2006
home | the papers | metro santa cruz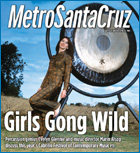 Cover Story: Evelyn Glennie
Percussion genius Glennie and music director Marin Alsop discuss this year's Cabrillo Festival of Contemporary Music.

News & Views
Ocean of Opportunity: Surfers with disabilities get ready for Day at the Beach.
Nūz: Santa Cruz News and Politics
Gallon Drunk: Venezuelan oil and online gas price monitors.

Essay: Newspaper film critics
Critical Masses: Richard von Busack contemplates the alleged death of the critic.
Movie Review: 'Look Both Ways'
Morbid love, Australian-style.
Movie Review: 'Russian Dolls'
Soured romance, European-style.

MORE MOVIE REVIEWS

SANTA CRUZ COUNTY MOVIE TIMES

Mūz: Santa Cruz Media, Music and Arts
Musings on media, music and the arts in Santa Cruz and beyond. Killing Us Loudly With Her Songs: Lauryn Hill's last minute Santa Cruz gig bordered on disaster.
Music and Nightlife Calendar Picks
Our critics pick this week's most interesting gigs: 311, Laurie Lewis, Michael Franti film, Tish Hinojosa, Rose Royce, Booker T. Jones Band, The Cops, I-Grade Reggae Showcase, Bill Tapia Trio, and Blue Cheer with Goblin Cock.

MORE MUSIC AND NIGHTLIFE

MUSIC AND CLUBS LISTINGS

Dining: Sestri
The Live Oak blessing known as Sestri continues to live in its reputation.

BOOK A RESTAURANT RESERVATION

FIND A RESTAURANT REVIEW

Arts Preview: Shakespeare Santa Cruz
25th anniversary season preview.
Letters to the Editor
July 19-26, 2006.