July 19-26, 2006
home | metro santa cruz index | santa cruz county restaurants | review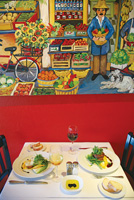 Photograph by Carlie Statsky
Still Life with Canine: Although surrounded by produce, the painted dog is understandably more interested in this Sestri table setting.
Luxury in Live Oak
Sestri continues to live up to its reputation
By Selene Latigo
Friday night dinner club strikes again, this time at the Live Oak blessing that is Sestri, where we knew we could get stiff, generous drinks, locally sourced produce and a peek at some changes from chef Scott Hauswirth's recent arrival. I requested a table in the main dining room, where the long, open kitchen, brick oven and towering dramatic flower arrangements create an exciting dining experience.
After being seated in a roomy, comfortable booth with a great view, we ordered the 2001 Monsanto Chianti Riserva ($41), a balanced wine with no relation to the evil seed corporation, and started out with some simple classics. While the calamari fritti ($8.50), with its thick, floury coating, tasted heavy with oil (a sign that the deep fryer was not hot enough or was overly packed), our pizza Margherita ($8.50) had the perfect ratio of light tomato sauce, fresh mozzarella and bright basil leaves. The baked "Sestri" mac and cheese ($4.50), a wide bowl of toothy orecchiette, was slathered in buttery cheddar sauce but lacked any sign of oven-crisp character.
Both Don and Dave selected beef entrees, each arriving with creamy mascarpone polenta, evenly prepared to preserve some coarse grain texture. Don's Bistecca a Modo Mio ($26.50) was a thin-cut rib eye, more medium than rare as requested, artfully topped with sides of baby bok choy, yellow patty pan squash and tender crisp asparagus spears. Dave's filet mignon ($25.50) was a thick and tall cut of medium rare meat, wrapped with a ribbon of prosciutto and placed next to a pool of Barolo sauce and the same seasonal veggies.
Jean and Maria opted for salads as their main course. Although the Portofino salad ($8.50), described in enticing detail with roasted beets, apple, arugula and goat cheese, didn't live up to Jean's expectations, Maria thoroughly enjoyed her baby spinach salad ($7.50), dressed with warm bacon-rich vinaigrette and studded with cherry tomatoes and shavings of ricotta salata.
Ben took advantage of the prix fixe menu, three courses for $19.95, served nightly until 7pm. This incredible value presents a soup or salad option, two entree and two dessert choices. His Misticanza salad featured Happy Boy Farms greens and cherry tomatoes in a refreshing vinaigrette. Next came the cioppino, a petite portion with light tomato broth, flecks of fresh herbs, with clams, muscles and halibut. The Dungeness crab and prawns were not apparent as described on the menu.
The true star of the table was my cedar-fired halibut ($22). The presentation was gorgeous, with colorful drizzles of deep saffron cream and fans of veggies. The fish was cooked perfectly, moist and snow white with a hint of cedar smokiness. Again, the menu mentioned fava beans in the description of this dish, but there were none on the plate.
It was difficult to choose my favorite dessert from the three we sampled, proof of how Sestri excels in the pastry arts. With my little glass of figgy Ficklin port ($9), the vintage ice cream sandwiches with malted milk gelato and bittersweet hot fudge ($7) was a winner. But the black tea crème brûlée ($6) with its thick burnt-sugar coating and flawless creamy depth blew me away as well, especially with a sip of Dave's walnut Nocello ($7). The pear almond cupcake ($7) with icy ginger gelato and subtly anise-flavored pear was Ben's choice and an exotic addition to the trio.
All of us noticed the restaurant's enhanced visual plating sophistication, which is less rustic than before. The service remains excellent and well-informed, despite the few inconsistencies between the kitchen and the menu. Sestri will remain secure on our list of dinner spots, suitable for every occasion, as we plan to return for updates on its evolution.
---
Sestri
Address: 655 Capitola Road, Santa Cruz
Phone: 831.479.0200
Hours: Daily 5pm-close
Price Range: $5-$28.
Send a letter to the editor about this story.