July 19-26, 2006
home | metro santa cruz index | movies | current reviews | film review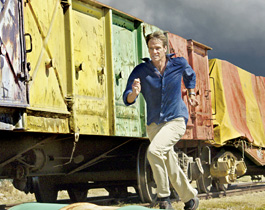 Do the Locomotion: Actor William McInnes is ready for his tracking shot, Mr. de Mille.
Lost Weekend
A terminally ill journalist and a morbidly obsessed artist find romance in Australian director Sarah Watts' mesmerizing 'Look Both Ways'
By Richard von Busack
Shortly after his summons to the court of the King of Diseases (testicular cancer, metastasized to his chest), an Australian newspaper journo named Nick (William McInnes) runs into a similarly morbid female artist. Meryl (Justine Clark) sees the heat and sunlight of this peaceful summer weekend in Adelaide as mere harbingers of a horrible fate. She imagines an animated version of dreaded fantasies: the murderer's approach, the sharks' fins stirring up the water, the speeding train that jumps the tracks and heads straight for her.
Look Both Ways' director Sarah Watt is a longtime animator. The serious cartoon catastrophes Watt creates for Meryl are matched by film montages of Nick's own fantasies, like a horror version of the "hypertext" sequences in Run Lola Run. He dwells on all the carcinogens he might have ingested, the meat he ate and the cell phone he pressed against his skull. Everyone knows the King doesn't arrest the innocent: it must have been something you did or didn't do. And since Nick lost his own beloved father to cancer, he has a clear vision of what the illness has in store for him.
This weekend-spawned romance is staged in sultry weather, leading to a rainstorm of grief. Look Both Ways tends to sprawl, lantanalike, into an Altman style relay movie, with a subsidiary character overcoming his fear of birth, and the story of the aftermath of what's either a train-track suicide or a fatal accident.
The real action is the romance between Meryl and Nick: Watt's clever redo of the old-movie conceit of a man with a terminal illness who can't bear to tell a girl he's starting to love.
And Clark's Meryl isn't an ordinary love object. She's a scruffy artist, with a flat Irish nose, a wide mouth and a clear case of dairy-derrière. (I wouldn't make a point of that, but Watt does, observing Clark from behind as she lowers herself into a swimming pool.) It's only when we see her from the right angles that we can see how she has that tenseness of Judy Davis, or something of Genevieve Bujold's leonine mystery, when we see Meryl reclining in a post-coital doze.
The humid, near-tropical colors of Look Both Ways are mesmerizing amid the bleached hues of this summer's CG movies. And Watt's Adelaide cityscapes are more than inviting. She shoots in a lower-class neighborhood that is right at that point just before the urban professionals arrive; with frowsy cricket pitches and trains clanking through, and hippie-days jungle murals fading on the brick walls.
This is what Watt said about her new home in Melbourne, in an interview with the TV program Australian Story: "When I first came here, you know, it was really ugly, but I've grown to kind of find a beauty in it and it was a beauty I wanted to celebrate when I made the film ... but it's got that ugliness also that I think inspires you to make beautiful things."
Look Both Ways is a really beautiful thing. It's more evidence that Australia--a land I sure hope to visit before I get my own summons--is a place where female film directors thrive like nowhere else on earth.
Look Both Ways (PG-13; 100 min.), written and directed by Sarah Watt, and starring Justine Clarke, William McInnes, Anthony Hayes, and Lisa Flanagan, opens Friday at the Nickelodeon in Santa Cruz. Metro Santa Cruz staff writer Richard von Busack also appears on Santa Cruz Community Television's 'CinemaScene.'
Send a letter to the editor about this story.