July 19-26, 2006
home | metro santa cruz index | music & nightlife | profile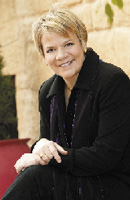 Alsop likens the Cabrillo Festival to a fling as opposed to a marriage. 'If it was 52 weeks, it would probably be fraught with politics,' she laughs.
Marin Country
Cabrillo Festival music director Marin Alsop talks about making history, transcending politics and dodging drumsticks
By Bill Forman
History does tend to repeat. Just ask Marin Alsop: The Cabrillo Festival of Contemporary Music's 49-year-old director has already made history twice: In 2002, she was selected by the Bournemouth Symphony as the first woman ever to serve as principal conductor for a major British orchestra. Then, just this past year, she broke a similar gender barrier in America with her appointment as music director for the Baltimore Symphony Orchestra.
"It's such a daunting profession to be in, but also extraordinarily rewarding," says Alsop, who suggests the "first woman" thing is primarily a media preoccupation: "The only challenges of being the first woman to do anything, I think, are really the media-related challenges [laughs]. Otherwise, there really are no challenges beyond trying to be good at this."
Even so, Alsop's appointment became a source of controversy within the orchestra itself, igniting tensions between musicians and management, the roots of which remain somewhat mysterious.
"I think that it was a combination of a lot of things," says Alsop. "Probably the primary thing was an orchestra that had a long and very, very dysfunctional relationship with its management and its board. I think that they played out their internal dissatisfaction and sense of helplessness through this issue. I really don't think, even though it did seem to get personal, I don't think it was personal. At all. And I do have to say that I love them, and I think the feeling is mutual. We're off to a great start. We just made a record for Sony [John Corigliano's Red Violin Concerto, featuring Joshua Bell], and all my concerts are sold out."
"But really," figures Alsop, "your guess is probably as good as mine. It wasn't as though they had a candidate that they were pitching. They just wanted to be listened to. They sensed, I think, that the board was not hearing them. So then they decided, oh, this can't happen. I don't think it was personal. I think it's important to keep it in perspective. ... When I'm writing my book maybe I'll try to actually figure it out."
Alsop is already trotting out big names for her debut season--from composer John Adams to tap dancer Savion Glover--even as she looks ahead to future seasons. "Well, just his morning my manager asking me about September of '09 and I was like, 'Oh my God, I can't even find my toothbrush, I don't know what they want from me!'"
Another work Alsop will be bringing to Baltimore is the Frans Lanting/Philip Glass collaboration, "Life: A Journey Through Time," which premieres at this summer's Cabrillo Festival. (See Metro Santa Cruz's in-depth interview with Lanting on the project.)
Asked what she's excited about at this year's festival, Alsop enthuses, "Oh gosh, everything. I mean Evelyn Glennie coming back is fantastic. Leila Josefowicz for the first time should be very cool. It's so jam-packed with stuff, the whole festival. What I'm trying to do, really, is have an ongoing relationship for my listeners and musicians with certain composers, and then constantly refresh that by bringing in new people to the festival."
One of the joys of Alsop's profession is the opportunity to work with artists over time and watch as their works and talent evolve. "I think I change, they change, the festival orchestra changes, and the festival itself changes," she muses. "I think it's like any wonderful friendship, you know? It grows deeper and matures and has new dimensions. And, you know, you pick up where you left off. It does feel very familial in way that we're all friends, and the people that I invite to Cabrillo are my really special artists, and even if they're new to the festival, they usually become my special friends. It's not about anything but the music, and because of that it brings us in touch with the passion that brought us to be musicians. So it's a very authentic experience on every level."
What's more, compared to most orchestras, the festival is comparatively free of politics, thanks in part of its challengingly short schedule. "It is very refreshing. It is without politics," says Alsop. "But the reality is, it's 2 1/2 weeks, three weeks at the maximum, out of people's schedules. If it were 52 weeks, it would probably be fraught with politics [laughs]. It's sort of like a fling as opposed to a marriage, you know what I mean? You just don't have that kind of baggage that you, by necessity, have to cope with when you're in a day-in, day-out kind of situation. So I think that by the end of two weeks, three weeks, everybody's ready to leave. And they can't wait to see each other again. It's like the perfect length."
Add to that a special repertoire that highlights the works of living composers, and a dress code, format and vibe that's very different from standard symphonies, and you've got a recipe, Alsop says, "that can only really happen, I think, in that place at that time."
And if that means having to dodge Evelyn Glennie's exploding drumsticks, Alsop's more than willing to pay the price. "Evelyn gets very enthusiastic," laughs Alsop. "I work with her a lot and her drumsticks do explode, so what can you do? Plus that's a lot of the fun, too, isn't it?"
Send a letter to the editor about this story.