July 19-26, 2006
home | metro santa cruz index | movies | current reviews | film review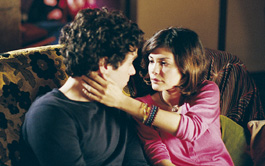 Tautou Me: Romain Duris gets close to Audrey Tautou in 'Russian Dolls.'
Fast-track Hack
Europe is just one big airport waiting lounge in Cédric Klapisch's 'Russian Dolls'
By Richard von Busack
'What was the line in Broadcast News? William Hurt is sighing over his good fortune, and he asks Albert Brooks something like, "What can you do when you have all these possibilities before you?" And Brooks replies, "Keep it to yourself." The hack of all purposes Xavier (Romain Duris) in Cédric Klapisch's Russian Dolls finds himself in just such a predicament as he taps his memoirs into a notebook computer. He works on unchallenging assignments like ghostwriting the autobiography of a world-famous 24-year-old model. He is also scripting a mundane soap opera. But his real vocation is getting in and out of predicaments with women.
The young Frenchman, who escaped becoming a government Eurocrat in L'Auberge Espagnole, is now juggling women while pushing 30. His bedmates include a gorgeous African saleswoman (Aïssa Maïga), his still-prickly ex (Audrey Tautou) and Celia (Lucy Gordon), the vapid model trying to frame her memoirs from her Seine-side flat. Meanwhile, he practically lives on the Eurostar, commuting to London to collaborate with his old chum, the slender redheaded writer Wendy (Kelly Reilly), who can't get a Cockney ex-boyfriend out of her life.
One of the purposes of Klapisch's L'Auberge Espagnole was to create a United States of Europe film, as he watched the bonding of young people from all corners of the continent. This film continues the work of cinematically knitting up Europe. While he aims at an audience of aging urban nomads, Klapisch creates characters who are more prosperous and more barren. The excitement of traveling in an instant from London to Paris is lessened when they both seem to be the same place. Unlike L'Auberge, Russian Dolls doesn't have the spirit of bohemianism in it; note for example how clumsily Klapisch handles a lesbian cocktail party.
When Xavier rebels against a producer's insistence that he ought to write a kissing scene at the Venice canals, the producer says, "We all love postcards." For better or for worst, Klapisch gives us a handful of postcards, and that's about all there is to the film. Klapisch has made better films than this and proves it in spots: the casinolike lights from passing bateaux mouches flickering on a ceiling, a broken-hearted lady crossing the street at some timeless summer hour in St. Petersburg (the "white night" effect makes it impossible to tell if it's morning or midnight).
Despite the snapshots, Russian Dolls is sour on romance, as if Klapisch were reluctant to waste his talent on a simple love story. It may be that the really romantic films are going to be made in Hong Kong and Taiwan, not Paris, from now on. Despite Klapisch's trick effects, he makes it seem like comfort and safe, fast travel have removed the obstacles to true love in Europe. And since the film is missing any piquancy from social or political pressures, it's basically as empty as any Jennifer Aniston feature.
Russian Dolls (R; 125 min.), directed and written by Cédric Klapisch, photographed by Dominque Colin and starring Romain Duris, opens Friday at the Nickelodeon in Santa Cruz.
Send a letter to the editor about this story.