June 7-14, 2006
home | the papers | metro santa cruz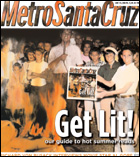 Book Preview: Hot Summer Reads
Metro's guide to summer literature includes a rundown of new genre fiction, an interview with 'Absurdistan' author Gary Shteyngart and reviews from local booksellers.

Nūz: Santa Cruz News and Politics
Ocean Revolution aims to bring marine conservation to a younger generation; Santa Cruz's U.S.A. filling station goes biodiesel.
News: Al Gore Interview
The man who would have been President lets down his guard and finds a new bully pulpit via the movie screen.

Car Culture: Feeling the itch for poison oak prevention
Poison oak's oils are what spread the welts. Applying Tecnu liberally throughout the car can be a life-saving mess.

Movie Review: 'A Prairie Home Companion'
Robert Altman and Garrison Keillor treat film version of long-running radio show like an obituary of old-time musicals.

MORE MOVIE REVIEWS

SANTA CRUZ COUNTY MOVIE TIMES

Mūz: Santa Cruz Media, Music and Arts
Musings on media, music and the arts in Santa Cruz and beyond. George Clinton brings his P-Funk armada to town; Scott Walker comes up with the century's most disturbing album.
Music and Nightlife Calendar Picks
Our critics pick this week's most interesting gigs: Necromantix, Natasha Miller, Jesse Scheinin Quartet, Hank III, Samba Ngo, Sasquatch and Gargantua, Andre Nickatina, Gary Bruton with Pat Metheny, Dgiin and O.A.R.

MORE MUSIC AND NIGHTLIFE

MUSIC AND CLUBS LISTINGS

Restaurant Review: Caruso's
A taste of Tuscany in Capitola Village.

BOOK A RESTAURANT RESERVATION

FIND A RESTAURANT REVIEW

Arts Preview: Calexico
The Arizona collective bridges the gap between West Coast cultures.
Letters to the Editor
June 7-14, 2006.