May 31-June 7, 2006
home | the papers | metro santa cruz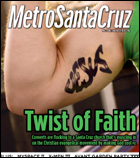 Feature Story: Jesus: Unplugged
Santa Cruz's youth-oriented Vintage Faith draws a new breed of converts from a post-Christian world.

News & Views: Elected Officials: What Do They Do?
How to tell a controller from a treasurer and why it matters.
Nūz: Santa Cruz News and Politics
County Supervisor and Superintendent of Schools candidates give their best arts spiels, pot initiative makes ballot, Santa Cruz loses Surf City USA battle.

Car Culture
This summer's lineup of car flicks--'The Fast and the Furious: Tokyo Drift,' 'Cars' and Will Ferrell's 'Talladega Nights'--won't disappoint.

Movie Review: 'X-Men: The Last Stand'
Like the third Batman film, 'The Last Stand' seems to have been made to benefit the toymakers.

MORE MOVIE REVIEWS

SANTA CRUZ COUNTY MOVIE TIMES

Mūz: Santa Cruz Media, Music and Arts
Musings on media, music and the arts in Santa Cruz and beyond. Does Dave Alvin sing like Mark Knopfler? How critical comparisons can ruin your day.
Music and Nightlife Calendar Picks
Our critics pick this week's most interesting gigs: Ditty Bops, Along Came Betty, Viva Hate, Sila & the Afro-Funk Experience, White Album Ensemble & Santa Cruz Symphony, Ray Manzarek, Santa Cruz Punk Festival, Leo Nocentlli, Rahael Sage, Alice Stuart and the Formerlys.

MORE MUSIC AND NIGHTLIFE

MUSIC AND CLUBS LISTINGS

Restaurant Review: Naka Sushi
Expert execution combined with a mom-and-pop ambience make Capitola's Naka Sushi a quality favorite.

BOOK A RESTAURANT RESERVATION

FIND A RESTAURANT REVIEW

Arts Feature: Terms of Enslavement?
MySpace's new user content agreement raises questions about what happens you hit that mysterious 'Agree' button.
Arts Preview: Avant Garden Party
From flutes to installations to the shady grove where it's being held, the 25th anniversary edition of New Music Works' legendary party is all about the bamboo.
Letters to the Editor
May 31-June 6, 2006.