May 24-31, 2006
home | the papers | metro santa cruz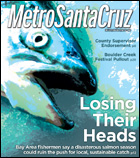 Feature Story: Local Salmon Supply on the Rocks
The story behind what promises to be the most screwed-up salmon season yet.

Endorsement
Metro Santa Cruz endorses Neal Coonerty for District 3 County Supervisor.
Nūz: Santa Cruz News and Politics
As if UCSC's proposed expansion weren't controversial enough, Nūz uncovers their environmental impact consultant's ties to the defense industry; county superintendent candidates race to raise alternative transportation awareness.

Car Culture
Al Gore's 'An Inconvenient Truth': Learning to figure your carbon load and worrying about climate change.

Movie Review: 'Down in the Valley'
Ed Norton goes urban cowboy.
Movie Humor: 'The Da Vinci Code'
The true meaning of 'TDVC' revealed at last!

MORE MOVIE REVIEWS

SANTA CRUZ COUNTY MOVIE TIMES

Music Festival Preview: Boulder Creek Art, Wine and Music Festival
Determined to carry on despite new regulations.
Music Preview: The Wolfpack
The Bay Area hip hop outfit's viral hit 'Vans' is the 'My Adidas' for 2006.
Mūz: Santa Cruz Media, Music and Arts
Musings on media, music and the arts in Santa Cruz and beyond. Celebrating the return of Mule Train, Ravi Shankar, the White Album Ensemble and '80s hitmakers ABC.
Music and Nightlife Calendar Picks
Metro Santa Cruz critics write about the week's most interesting gigs.

MORE MUSIC AND NIGHTLIFE

MUSIC AND CLUBS LISTINGS

Restaurant Review: E3 Playhouse
Downtown's new entertainment nightspot boasts a surprisingly healthy menu.

BOOK A RESTAURANT RESERVATION

FIND A RESTAURANT REVIEW
Letters to the Editor: May 24-31, 2006
This week's letter 1; this week's letter 2.