July 12-19, 2006
home | the papers | metro santa cruz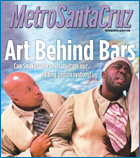 Cover Story: Art Behind Bars
Can Shakespeare help rehabilitate our failing prison system? Director Curt Tofteland and three California inmates think so.

News & Views
Sing the Bike Electric: Rebates help fuel an e-bike revolution.
Nūz: Santa Cruz News and Politics
The Sentinel and good old-fashioned flag burning.

Movie Review: 'A Scanner Darkly'
Richard von Busack reviews Richard Linklater's take on Philip K. Dick. Plus, Steve Palopoli reviews other Dick films.
Movie Review: 'Strangers with Candy'
Amy Sedaris and Stephen Colbert reprise their Comedy Central series.

MORE MOVIE REVIEWS

SANTA CRUZ COUNTY MOVIE TIMES

Music and Nightlife Calendar Picks
Our critics pick this week's most interesting gigs: God of Shamisen, Tom Brousseau and Shelly Short, Sweet Honey in the Rock, Eddie Money, Harmony Grits, Ozric Tentacles and the Everyone Orchestra, Dengue Fever, Gjallarhorn, John Renbourn, The Motet.

MORE MUSIC AND NIGHTLIFE

MUSIC AND CLUBS LISTINGS

Dining: A Convenient Truth
Sushi, peach cobbler lattes and other adventures in fine dining are all waiting at the 7-Eleven.

BOOK A RESTAURANT RESERVATION

FIND A RESTAURANT REVIEW

Arts Preview: Steven Kotler
Wave Theory: The author tells about his journey from Lyme disease to surf mythology in 'West of Jesus.'
Letters to the Editor
July 12-19, 2006.