July 12-19, 2006
home | metro santa cruz index | news | santa cruz | news article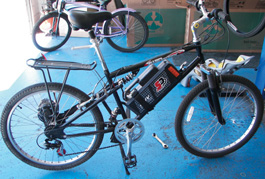 Better Than Traffic School: A two-hour electric bike safety class will save you as much as $375 off the price of an electric bike.
Sing the Bike Electric
Local rebates and rising gas prices help fuel an E-bike revolution
By Rachel Stern
Noble though it may be, biking can also be tough work. For those who dislike struggling up the steep hills of UCSC campus or getting worn out before they even make it in to work, Ecology Action is offering another environmentally friendly solution: the Electric Bike Rebate Program.
Since August 2000, Ecology Action has been issuing rebates for Santa Cruz County residents of up to $375 on electric bicycles. These bikes come with an attached motor that kicks in at the touch of a button to assist with pedaling. Subsidized through the Santa Cruz County Regional Transportation Commission, the big bite out of the $800 to $900 electric bike price tag is available to anybody who attends a two-hour-long electric bike safety training class.
According to Piet Canin, one of the program's founders, riding electric bikes reduces solo auto trips, traffic congestion, parking demand and air pollution.
"E-bikes are for people who have tried regular bikes, and found that they don't work for them," says Canin, who also serves as the deputy director of the Santa Cruz Transportation Management Association (TMA). "Some people want the power electric bikes give them. E-bikes are easy to maneuver when you get tired."
Sal Saladin, a "fiftysomething" UCSC employee who journeys over the hills of campus on his electric bike, agrees.
"[The program] keeps me on the bike," said Saladin, a West Side resident. "I'm not sure if I'd be riding a regular bike if it wasn't for the electric motor. I arrive at work warmed up, yet I don't need to change and shower."
An Ecology Action Survey of 879 of the 1,211 program participants since 2000 found that 62 percent of the program participants switched from driving exclusively in a single occupant automobile to E-biking an average of 24 to 28 miles per week.
Most program participants would unanimously agree that they are helping their wallets, and the environment. In the United States, people make approximately 900 million car trips every day, according to the Environmental Protection Agency, half of which are less than five miles long and transport only one passenger.
Once charged, electric bikes generally last 15 to 20 miles, depending on how much one pedals, on a lead acid battery that usually lasts about 250 charge cycles, according to Keith Hodgson, owner for the past six years of Electric Sierra Cycles in Santa Cruz.
Hodgson "selfishly built" his first electric bike for himself, only to discover that "everybody else likes them."
"I sell the bikes pretty much across the spectrum," says Hodgson, whose store has been selling E-bikes with rebates for the past four years for a clientele that includes students at Harbor High and Santa Cruz High. "Kids use them for school, and parents use it to keep up with their kids."
Saladin maintains a Zen-like outlook on his E-bike.
"Riding any kind of bike is a great form of mindfulness," says Saladin. "It's a great way of keeping the consciousness on the here and now."
Send a letter to the editor about this story.