July 12-19, 2006
home | metro santa cruz index | santa cruz county restaurants | review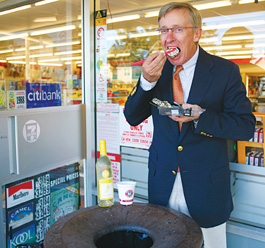 Photograph by Carlie Statsky
Roll wit it: Like being magically transported to Tokyo
A Convenient Truth
Oh, thank heaven for sushi at 7-Eleven
By Mike Calahan
Despite our financial situation fluctuating between poor and slightly less poor, my girlfriend and I always seem to make room in the budget for dining out. The start of the weekend found us craving something new, something exotic. We decided to try someplace often overlooked as a dining establishment, but one that has withstood the test of time, has proven itself by outlasting the automats, the drive-throughs and the Planet Hollywoods. Established in 1927 as Tote'm stores (customers were able to "tote away" their goods), the name was changed to 7-Eleven in 1946 to reflect their store's hours. With 27,900 stores in the United States alone, 6 million customers are served every day with a variety of products and reasonable prices. We decided to up that number to 6 million and two.
Reservations are never accepted and seating is limited, to say the least (the only place to sit at all, in fact--the space located between the outdoor trash receptacle and the public phone--was occupied by two gentlemen hounding us for monetary assistance), but that was the only drawback we could find. Upon entering, we were immediately assaulted by a variety of suggestive aromas coming from glazed pastries and cold sandwiches, warm beverages and rotating meats.
For an appetizer, my vegetarian girlfriend selected the sliced apples and peanut butter cup ($2.09) served in, well, a cup. As an omnivore, I began with a selection from the rotisserie--whether one is in the mood for traditional Italian (a pizza Twista, 99 cents) or an all-American classic (plump, but dried in all the right places, frankfurters, $1.99), they can find something to suit them rotating upon stainless steel rollers.
We decided to sample several entrees. Exotic, hand-rolled sushi ($3.49) was served in the plastic display boxes of the ancient Orient tradition. With the inclusion of a wasabi packet, it was hard to believe we hadn't been magically transported to Tokyo. For that south of the border experience, I chose a chicken, bean and rice chimichanga ($1.29), made fresh three days earlier, while my girlfriend got her finger food fix with a serving of nachos ($2.29). For the waistline watchers, an assortment of two salads was offered ($3.49). Feel like chicken? The Chicken Caesar Salad might be up your alley. Feel like ham and a hardboiled egg? I'd suggest the Chef's Salad. Feel like a seaweed salad with miso dressing and cucumbers? Then I'd suggest going to Pink Godzilla.
Despite my stomach being near capacity, I could not resist the rib sandwich ($2.99). This boneless (and quite possibly ribless) sandwich was served on a coaster-size bun after presumably having soaked for several days beneath a barbecue-flavored glaze. Could my vegetarian girlfriend resist just a small, almost unnoticeable, harmless taste? "Get that away from me," she said, pushing my hand away as it moved the sandwich within proximity of her animal friendly mouth.
The dessert selection was overwhelming. An It's-It? A blue-flavored Otter pop? In the end, we split a Klondike Bar ($1.29). By doing so, we felt as though we were supporting the economic growth of Eskimo-land, helping to create a better infrastructure that would promote literacy and cultural awareness among the baby seals and polar bears of this Third World entity.
When asked by the maitre d' (dressed in an eye-catching collared, zip-up red shirt with a 7-Eleven on the sleeve) if there would be anything else, we decided that a warm beverage would provide the perfect finish. A 16-ounce Peach Cobbler Latte ($1.19) was the natural choice to follow our dinner, on a par with riding the People Mover after It's a Small World--something that makes you let out a deep breath of satisfaction.
Whether you are looking for a cheap alternative to Cafe Mare or Mobo, I strongly suggest that 7-Eleven be on everyone's list of dining destinations. In all, this dinner for two ran about $19.11. But the memories are priceless.
---
7-Eleven
Address: 602 Laurel St., Santa Cruz
Hours: Open 24 hours
Rating: 7 out of 11.
Send a letter to the editor about this story.