June 28-July 5, 2006
home | the papers | metro santa cruz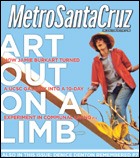 Cover: Open House
How Jamie Burkart turned a UCSC gallery into a 10-day experiment in communal living.

Denice Denton Remembered
The UCSC Chancellor is remembered by community leaders and colleagues, including Neal Coonerty, Mimi Hill, Cynthia Matthews, Lynn Robinson, Linda Rosewood and Paul Wagner.

Movie Review: 'Superman Returns'
Every era gets the Superman it deserves.
Movie Review: 'Click'
Adam Sandler does Jerry Lewis, but meaner.
Movie Review: 'Wordplay'
Precursor to the Crossword Puzzle Channel?

MORE MOVIE REVIEWS

SANTA CRUZ COUNTY MOVIE TIMES

Mūz: Santa Cruz Media, Music and Arts
Musings on media, music and the arts in Santa Cruz and beyond. Midnite's Vaughn Benjamin unplugs, 'An Inconvenient Truth' plays for free and Black Heart Procession's Pall Jenkins gets his saw on.
Music and Nightlife Calendar Picks
Our critics pick this week's most interesting gigs: Les Claypool and the Coup, the Red Elvises, the Fixx, the Waybacks, Mandonna, Blues Guitar Extravaganza, Indigenous, Cachagua Playboys, Bob Malone, Imaad Wasif.

MORE MUSIC AND NIGHTLIFE

MUSIC AND CLUBS LISTINGS

Dining: Pearl of the Pacific
La Perla del Pacifico is the place for south-of-the-border flavors in South County.

BOOK A RESTAURANT RESERVATION

FIND A RESTAURANT REVIEW

Arts Preview: Felix Kulpa Gallery
A new series of juried shows.
Letters to the Editor
June 28-July 5, 2006.