June 28-July 5, 2006
home | metro santa cruz index | the arts | visual arts | profile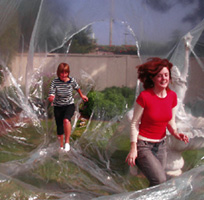 Photograph by Jamie Burkart
Inflatable Pleasures: Shop Show participants run through a giant bubble used for viewing homemade films.
Open House
How Jamie Burkart turned a UCSC gallery into a 10-day experiment in communal living
By Laura Mattingly
Riding the bus from UCSC on my way to Front Street, a classmate introduced me to his friend Jamie Burkart, a skinny guy with scraggly hair and lively intelligent eyes. He shook my hand with thin white fingers."So," he said. "Would you like to live with me?"
Certain I misunderstood the question. I replied, "Excuse me?"
"I asked if you'd like to live with me."
Not being one to believe in love-at-first-sight, I assumed I was the butt of some kind of annoyingly avant-garde Porter-student-joke, until he paused, opened his backpack and handed me a small ambiguous flier with the words "Open House" on it.
I hesitated before saying anymore, hoping the guy would offer further explanation.
When he didn't, I pretended to know exactly what he meant, thanked him for the flier, turned around in my seat and stared out the window.
I then overheard/eavesdropped on Burkart explaining to my classmate Bradley Presentati that he'd won an annual raffle for UCSC students, granting winners access to the Porter Bridge Gallery for one whole week to use the space as they like.
"They gave me the keys. They [Porter College] said the gallery could be open to the public as long as I'll be there, so I'm not planning on leaving."
Burkart then explained he'd put an ad in a local weekly advertising weeklong free communal housing, from April 7 to April 16, inside the art gallery. I turned around and told him I'd be there.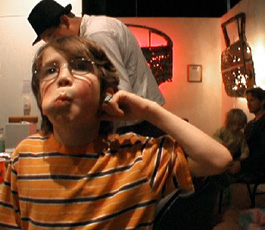 Act Your Age: Open Housemate Joey Dawn hams it up for the camera.
Shop Shows: Art in the House
"We'd question why in school only our professors and teacher's aides have access to our work," says Burkart. So they started showing it to everyone.
The Open House at the Porter Bridge Gallery was not Burkart's first experiment in integrating art and life. From 2003 to 2005 Burkart and housemates held "Shop Shows" at their residence, 130 Iowa Drive, Santa Cruz, otherwise known as "The Shop."
"It was an open art show; that meant everyone was the artist, and it was often a potluck," says Burkart. "We encouraged people to fill our walls and our floor with their art."
The Shop residents encouraged all mediums of art, including performance art.
"We had some people who did tap dancing."
"Some people would bring a play they had written and would pass out scripts for the audience to read and act out, and they were really funny plays."
"Libby [Hendon] made some puppets, so there were several puppet shows."
According to Burkart, the Shop Shows were meant to create a comfortable environment where everyone would feel free to participate and contribute art. It also provided a space for them to workshop and revise unfinished works, and to create a dialogue about what makes something successful, effective or "good."
Does Experimental Art Exist Within a Bubble?
"One of my housemates and I made this giant bubble," says Burkart, referring to his Shop Show days. To show me, Burkart plays some footage on his computer screen of a giant, translucent, undulating bubble with grown people running inside it, smiling.
"Wow," I say, "that must have been at least 50 feet long."
"Yeah," he says nonchalantly, "it was big. It took up the whole backyard."
According to Burkart they made the balloon out of pieces of painter's plastic, melting the edges together with aluminum foil and a clothes iron and inflating it with two hand-held blow-dryers.
"It wasn't our idea, though," says Burkart, giving full credit to a counter-culture art group of the '70s called the Ant Farm.
"They were fed up with the idea of concrete, so they started making inflatable structures," Burkart says.
Shop Show participants used their giant bubble as a sort of heated outside room, with a projector inside to show homemade movies on.
"One time there were a bunch of us inside the bubble watching people's films, and someone thought the two dryers were too loud, so they decided to turn them off," says Burkart. "And they were right; it was quieter for a while and we could hear the movie better. But after a few seconds, the bubble started deflating.
"Then there was this collective moment, where 30 people realized that you're not supposed to get inside a plastic bag."
The First Night in a New House
I had no idea what to expect. I showed up shortly after 7pm. There were no more than a dozen people wandering around. The walls were still sparse.
A piece of butcher paper with meek pencil drawings of three nude figures.
Photos of a leafless tree.
The outline of a dinosaur made with bright blue electrical tape.
A donut tacked to the wall in a white paper bag with a caption next to it: "You can't resist. It smells really good (but don't eat it, let others smell, too)"; and an accompanying paragraph: "Farrell's Donuts of S.C. They're located on Mission Street. That's Mission Street that functions like a freeway sort-of for Highway 1. Did you know that Santa Cruz originally was going to make it a freeway in the '50s?" The paragraph went on for a few more sentences to explore other issues of urban planning, and the writer's daily habits.
Burkart greeted everyone, awkwardly but warmly.
"It's an open art show, so feel free to put stuff on the walls or rearrange things, and it's a household too, so you can live here," said Burkart.
He did not instruct anyone on what to do upon entering the Open House, but made helpful suggestions.
"An appropriate thing to do in this space might be to take a nap."
Among the twentysomething-ish, tight jeaned, art-student-y-looking folk quietly taping things to the walls, there were also three young children, Joey (8 years), Polly (4 years), Missy (2 years) and their parents, Linda and Michael Dawn (not their real names).
Polly grabbed my hand before I introduced myself, and asked me to dance.
I asked Polly if she was going to sleep at the Open House.
She nodded.
I asked where she was going to sleep.
"On that couch," she said, pointing to the only piece of furniture in the room other than a few folding chairs.
"We're a part of Santa Cruz's homeless population," said Linda Dawn.
The Dawn family had responded to one of the ads Burkart posted in the paper and on Craigslist.
They'd moved to California from Virginia in November, five months before, and had been renting a house in Felton for $500 a month. In search of a communal living situation to join, they left their Felton residence in Febuary, but their next destination didn't work out as planned, so the Dawns had spent about two months staying in hotels, with friends and with people they met at church.
According to the Homeless Census and Survey, conducted by Applied Survey Research, as of 2005 the total estimated sheltered and unsheltered homeless people in Santa Cruz County was 3,371. Of these, only 21 percent had temporary shelter.
Two-year-old blonde-haired Missy Dawn walked up to me where I was sitting cross-legged on the floor, moved my reporter's pad and sat on my lap.
"We'd left to start a community with people who have a like-minded consciousness, to live together, share responsibilities," said Linda Dawn. "A place where people could share their abilities--like, my husband knows how to build things, and I could help with child care. We want to live with people who are economically and ecologically conscious."
Michael Dawn had been working doing odd jobs such as building fences and making car repairs. He recently replaced a car starter for someone, in exchange for letting his family stay the night in the person's residence. "A good trade," said Michael.
The Dawn family was entertaining the idea of another alternative lifestyle: "We're going to build a tree-house for our family and use solar panels."
I asked where they would be spending the night, if not at the gallery.
They said the New Life Rehab Center was full. "We could camp if we wanted but it's getting cold and wet," said Michael.
"And campgrounds are 30 dollars a night," said Linda.
"We'll be part of a community by summertime," said Michael, with a degree of confidence that may or may not have been for my benefit.
Later that evening, I asked Burkart if he anticipated the project being a success.
He looked me in the eyes, genuinely, and smiled. "I don't think there's any way not to succeed in a world like this."
I couldn't tell exactly what he meant, but something about the way he said it made me agree.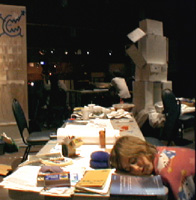 Rest Stop: Libby Hendon falls asleep at Open House, where even a nap is on display.
UCSC Staff Investigates The Open House
"What the heck is going on above Porter Dining Hall?"
After staff and students had approached her with concerns, Porter College Programs coordinator Deva Hymen visited the gallery herself halfway into the project's run.
"I went in there all excited because everyone had ruffled my feathers," says Hymen.
Because the Porter Dining Hall also functions as a stage in the evening, the setting for a variety of student events ranging from fashion show shindigs to slam-poetry rant-fests, Hymen was initially alarmed that the Open House on the balcony might distract from or get in the way of other events. Not to mention that the tech equipment for the stage, including lighting board and digital projector, is also located on the balcony.
Seeing the gallery herself sparked Hymen's own concerns regarding cleanliness, and the nonstudents making a temporary home on campus, which in some cases is against school policy.
"We usually have a pretty traditional gallery showing in that space, but just walking into the gallery that day, I would say there was no line between art and life in that room."
Hymen, having known Burkart since his freshmen year, immediately approached him in the gallery and requested that they talk privately across the hall in the fireside lounge.
But according to Hymen, "He had all the little ducklings come along too. It was really quite adorable."
All the "housemates" that happened to be hanging around went to Burkart's rescue, and Richard grabbed the video camera.
During what turned into a "group" meeting, Burkart and compatriots won Hymen's trust by explaining the philosophical and theoretical motives behind the project.
Burkart also explained that he was not the leader, and that a key component (and one of the only premeditated aspects of the project) was that the responsibility and decision-making for the space be completely communal.
The group took full responsibility for the presence of nonstudents.
"If nonstudents are here as guests of students, that legitimizes it," Hymen says.
After being told to clean their room, the housemates tidied up the open food, empty containers and miscellaneous mess on the floors. They also laid down a strip of tape around the balcony ledge and tech equipment, designating smaller parameters for the Open House.
The group impressed Hymen with their positive attitude and readiness to cooperate.
"These guys are so cool," says Hymen following her visit. "Even though I came in my old-lady administration hat they treated me as part of the gang. It felt very good. They were so inclusive, so loving, so willing to incorporate anyone and anything that came along."
Is UCSC the Appropriate Setting For Experimental Art?
"At first I said, 'Jamie, why don't you get a garage for this?'" says Hymen, referring to her initial reaction to visiting the Open House. "Jamie replied, 'Art doesn't belong in a garage,' and I had to agree with him."
UCSC'S Porter Bridge Gallery, where the Open House set up camp, is located at Porter College on an interior balcony. "It's a very visible space overlooking the dining hall so all the people eating lunch or dinner could look up and see what was going on. It was an art circus, the likes of which we'd never seen before," Hymen says.
"It was wonderful to see everyone coloring, painting, drawing and making movies. I don't get to see that very often. I just see the end result of things," says Hymen. "I really wish we could make a permanent space like that on campus where people could go to just have art supplies and play."
Hymen has held the position of Porter College Programs coordinator for 18 years, and feels the campus grows more regimented and complacent with structure all the time.
"The place is straightening up--it's horrible!" says Hymen."I think it's appropriate that they rattled the cage a bit."
Burkart felt the highly visible location of the event was perfect for their purposes, bringing the Open House a new influx of visitors every day.
Its location also provided amusement.At one point during the week, using some rope lying around, the housemates tore up black socks and tied then around their heads, to give the appearance of bandits, and they slid down the rope and into the dining hall. Next they slid a large suitcase down the rope and filled it with food from the dining hall to take back up to the Open House.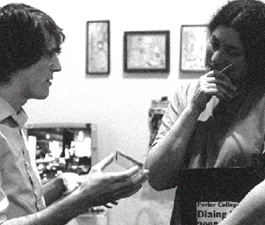 Photograph by Richard Caceres
Inspection Time: Open House instigator Jamie Burkart bonds with Porter College Programs coordinator Deva Hymen.
A Tradition of Experiment
"It's so gutsy, it's scary," says Margaret Morse, professor in UCSC's film and digital media department, of the Porter Bridge Gallery's Open House.
"Putting an ad in the paper and having a homeless family reply was amazing. It worked simply because he was there. He tended it. It could have been chaotic and potentially dangerous."
Burkart took two courses with Morse last quarter. She says that much of the thinking behind his project mirrors that of Allan Kaprow, an American painter known as one of the pioneers of performance art of the late 1950s and 1960s and a contemporary of John Cage.
One of the essays Morse assigned for class reading, the "Real Experiment" by Kaprow, "challenges many ideas people have about life and art," says Morse.
"Kaprow gives examples of life itself framed as art, and examples of intentional projects that are not framed as art."
One of the examples in Kaprow's essay describes a woman taking daily walks on the beach, each day attempting to retrace the same steps.
According to Morse, "Part of the experiment was about intentionality--about paying close attention to life. She kept a diary in which she evaluated her walk, almost like a Buddhist thing, practicing awareness."
One main activity of Open House residents during their stay at the gallery was meticulous recording of the events, and at times the nonevents, of every day. After the first night, the collective decided to set up a camera in the corner of the room to take a photo every 12 seconds, the result being a surveillance-style, detailed visual account of the entire week.
Other methods of documentation included the occasional video camera, disposable cameras strewn about the room to allow any housemate or visitor to record what he/she felt was important (thereby allowing for multiple perspectives) and a house diary, also passed from person to person.
After the week ended, as Burkart and I watched some of the footage taken atthe Open House, he noted people's perpetual awareness of being photographed and filmed.
"See, how they position their bodies toward the camera? And she's speaking louder so it'll be picked up," said Burkart, watching two housemates on the screen.
The documentation process itself caused participants to be continually aware of themselves, their actions and their appearance.
Morse says Burkhart was also exposed to material from Fluxus, an influential movement of the '60s and '70s that integrated various genres, including visual art, literature and music. George Maciunas began Fluxus in 1962 and it included various performers and artists such as Yoko Ono, Joseph Beuys, Dick Higgins, Nam June Paik and Beck's grandfather, Al Hansen.
According to Morse, Fluxus was characterized by creating art that involved the public and emphasized process rather than product.
Open House operated along similar lines: the experience of the communal living space; the interaction of housemates and visitors; the making and viewing of art, music and performance; the constant reinvention of what the space would and could be used for; and the almost relentless documentation process--these all took precedence over concerns about any tangible final product.
Thousands of images and dozens of hours of footage were collected during the week, and the diary was continually passed around. But in the end-of-the-week shuffle of moving everything out of the gallery, the diary was lost.
The images, meanwhile, were mostly of "surveillance quality," and Burkart expressed frustration that the experience had not been captured with more attention to quality.
"I feel regret that we don't have more now. But at the time, the documentation was more about giving us something to do than about the product."
A Community on Display
Still, there are moments that, at least for those who were there, remain indelible. "There was one strange moment when somebody new came in and asked if the family was around. I said they were sleeping, and they asked, 'Can I see?' as though the family was part of the exhibit," says Burkart.
During the recounting of the incident, Burkart and his partner Libby Hendon seemed troubled by it.
But the problem to Burkart was not that people themselves would be considered a display, but that the Dawn family would be singled out, either for being a family or for being homeless.
"The whole idea is that in an art gallery there are images on display. Here, in a sense, we all become images on display, if we think of our lives as the generation of an image."
According to Burkart, when a person enters a gallery setting, one automatically views the objects on display with a critical eye. And in the Open House, one could potentially view the society with a critical eye.
"People here are a sample of the community for people to view."
Burkart explains that by documenting the experience, this possibility for critical viewing could be available to the participants as well, with the capability of viewing themselves.
Burkart also took a course with Warren Sack on social software, and he likens his own project to phenomenon such as Facebook and Myspace.
"It's explicit, you see yourself represented in relation to other people and things."
The Power of Performance
According to Chip Lord, a member of the Ant Farm, and professor and chair of the film and digital media department at UCSC, the concepts Burkart uses and the problems he confronts in his project "go all the way back to Marcel Duchamp."
A painter and mixed-media artist associated with Dadaism, Cubism and Surrealism, Duchamp is most famous for the readymade toilet titled Fountain he displayed at an art show in 1917.
"Those readymades are the most influential works of the 20th century," says Lord.
Says Burkart, "When Duchamp displayed the toilet, people thought he was lowering the standard of art. When I blur the line between art and life, I'm interested in taking the authority of art and giving it to everyone. I'm not devaluing art, I'm saying that I think we're all awesome."
"Normally in a gallery, the artwork is finished, with no fingerprints on it, it exists distanced from its source."
By presenting the Open House as an ambiguous space, free of strict and ingrained societal expectations, Burkart attempted to create a void in which everyone present would be compelled to create and discover themselves, each other and their environment.
"Everyone wants me to explain it. They're uncomfortable with the vacuum. But the discomfort compels them to fill in the meaning themselves."
Send a letter to the editor about this story.