June 28-July 5, 2006
home | metro santa cruz index | santa cruz county restaurants | review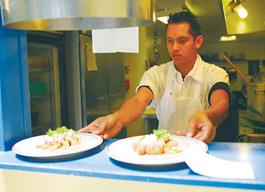 Photograph by Carlie Statsky
Pleasures of the Harbor: Seafood specialties abound at La Perla del Pacifico.
The Pearl of the Pacific
La Perla del Pacifico is the place for south-of-the-border flavors in South County
By Selene Latigo
Our friend Ted wants a hog for his birthday. A full-fledged pig roast is scheduled for the occasion, and recently he visited the TLC Ranch in Watsonville to pick out the organic, 140-pound prize. We met up with him, along with a few more friends, at La Perla del Pacifico to hear all about his muddy excursion while enjoying seafood wonders at this hidden treasure.
As our party of seven took over the long center table in this small restaurant, we were immediately welcomed and served chips with thick and fiery brick red salsa and a round of Negro Modelo beers ($3). The place has a calming interior with light green walls, oceanic décor and a soft breeze form the overhead ceiling. Several other patrons filled the remaining tables, but the place never felt hectic or crowded, with everyone dining at a relaxed pace.
La Perla's menu is four pages long, clearly written in Spanish and English, and broken up primarily by type of seafood. There is a whole section devoted to octopus alone, plus eight seafood cocktails and a creative house specialty category. Dave and I had arrived a little late and it seemed like mere seconds after sitting down that the hovering notepad of our server was upon us. Regardless of the fact that she was the only server in the whole place, she voluntarily went over the nightly specials and kindly suggested items that were popular. This extra bit of good service is something that we honestly don't come across that much and found extremely refreshing.
Amazingly, without any pre-meditated menu comparisons, we ended up ordering a diverse selection of dishes, all aesthetically beautiful, heaping in size and arriving in a timely manner from the peek-a-boo kitchen window. Several of the items included steaming fresh homemade corn tortillas, nestled in baskets around the table, with plenty for all of us to tear into. The rice, unlike most Mexican restaurants, was without the "Spanish" seasoning, allowing the pillowy soft texture and nuttiness to come through. The refried beans maintained similar pureness in flavor, rich and creamy, minus the cloying greasiness.
The only repeat orders were by Dennis and Guillermo, both opting for the house special Comal de Mariscos ($12.50). Sizzling cast-iron skillets appeared in front of them, heaped with darkly grilled octopus, scallops, shrimp and mussels, all coated and topped with strips of deeply charred red chiles. The variety of fish created textural complexity while the earthy chile and super-high cooking temperature imparted deep, smoky flavor.
Indy chose the Caldo de Pescado ($9.95), one of the featured soups, which was served in a huge ceramic bowl with a little side serving of chopped onion, cilantro and limes. This fresh garnish enhanced the spicy opaque tomato-based broth loaded with chunks of succulent fish.
Ted, perhaps with a nod to his upcoming birthday wish, ordered the Camarones al Tocino ($10.50), four large prawns encased in pink and white ribbons of bacon and fried. In addition, this dish came with a pile of golden french fries, explaining the bottle of ketchup on the table among the myriad of hot sauces and condiments.
My two fish tacos ($8) were double wrapped in moist corn tortillas and sprinkled with onion, tomato and cilantro. Although both held fresh snapper, the preparations were different; one was softly grilled while the other was deep-fried and crisp. The light veggie toppings contrasted the salty flavors of both tacos.
A deviation from the seafood-themed meal was Dave's Codornis en Salsa ($10.95). Tiny, perfectly cooked game hens were fried and then tossed in chile-flecked sauce, moistening the meat while the crispy skin shone through.
The star of the table was Emily's Pescado Frito ($10.95). Not for the tame of heart, this visually daunting plate held an entire fish fried to a deep golden hue. The tender meat inside flaked apart, encased by savory caramelized skin.
This brief journey to Watsonville couldn't have succeeded more in satisfying our large group's every taste. Each dish that we sampled proved to be an example of the technique and innovation that will bring us back for more, especially at such astonishing value. La Perla del Pacifico is another motivator for me to continue to explore the often overlooked culinary finds in South County.
---
La Perla del Pacifico
Address: 458 Main St., Watsonville
Phone: 831.724.0993
Hours: 10am-9pm Mon-Sat; 9am-9pm Sun
Price Range: $3-$15.
Send a letter to the editor about this story.