June 28-July 5, 2006
home | metro santa cruz index | music & nightlife | mūz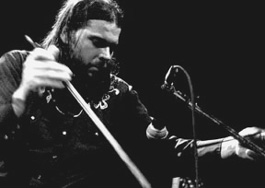 Photograph by Sarah Murdoch
Cutting Edge: Black Heart Procession frontman Jenkins warbles while he works.
Mūz
Reggae Got Rhyme
By Bill Forman
MIDNITE SPECIAL Reggae poetry readings are genuinely rare events, even here in ganga-friendly Santa Cruz. Actually, the only one I've ever witnessed was a Linton Kwesi Johnson reading, and that was in Brixton during a London study abroad several centuries ago. So I was intrigued by the news that Vaughn Benjamin from the godlike St. Croix reggae band Midnite will be doing a reading at the Attic Saturday, July 8. The event is billed as "an unfiltered and unplugged evening of spoken word and reasoning from the voice of Midnite" and will feature Benjamin reading from his book Koll Pekude. (Sample passage: "if not by me it's still sure to be said / acknowledgment will save you that one tolerant piece of bread / to sustain you on the day of your deep water coronation / a thousand pounds of coronation around your neck") He'll also be answering questions "in an intimate village setting." No music, though, so you'll just have to replay Midnite's three-hour-plus performance from the Vets Hall last year in your head.
FREE FILM It may not be as impressive as Warren Buffett's announcement this week that he's giving away 80 percent of his wealth (some $37 billion, but who's counting?) to Bill Gates' charity foundation, but Bob Evans is offering Santa Cruzans a free movie. The local solar contractor has bought out this coming Friday's (June 29) 7pm screening of the acclaimed Al Gore environmental documentary, An Inconvenient Truth, and is inviting his "customers and friends in the community to see it together." For more information, you can contact his company, Independent Energy Systems, at 831.477.0943.
SAW DELIGHT What's it take to be a member of Black Heart Procession? Well, besides the ability to grow a good scruffy beard (the group currently sports more facial hair than ZZ Top), group members must also be able to put up with frontman Pall Jenkins' apparent obsession with the musical saw. Indeed, you could just imagine his band mates ruing the day Jenkins stumbled into the toolshed as he warbled along for several songs during Black Heart Procession's performance at the Rio Theatre. "We're from just down the road in San Diego," Jenkins told the crowd before settling down to another Pink Floyd-laced indie epic in which he took his saw into musical dimensions (think Theremin on steroids) that Santa Cruz saw legend Tom Scribner never imagined. While their set began as a musical acid trip, the band eventually broke out the backbeat as their quirky frontman switched to guitar and ended up rocking out in Black Heart Procession's own peculiar way. Come to think of it, as he stood rigid at center stage in his dark sunglasses, it would be easy to imagine Jenkins as someone who aspired to be in a more metallic outfit along the lines of Motorhead or Black Sabbath, were it not for the fact that his circle of friends consisted of geeks who prefer to drone along like Nick Cave or the Sea and the Cake. Even though Calexico's headlining set was more refined and eclectic--with their curious alt-rock take on Morricone and mariachi music plus an excellent cover of Love's Alone Again Or--I still found myself more amused by the weird little band from just down the road in San Diego. Or at least I was, until Jenkins joined Calexico onstage at the end of the night with that musical saw.

Midnite, Saturday, July 8, 8pm, The Attic, 931 Pacific Ave., Santa Cruz; 831.460.1800.
Send a letter to the editor about this story.