June 21-28, 2006
home | the papers | metro santa cruz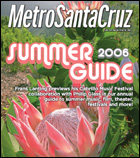 Cover: Summer Guide
Frans Lanting previews his Cabrillo Music Festival collaboration with Philip Glass in our annual guide to summer music, film, theater, festivals and more!

Nūz: Santa Cruz News and Politics
UCSC student journalists protest to reinstate their department; Lowell Darling unveils his tomb of the unborn soldier.
News & Views: The Real Hep C Crisis
A mix of high-risk conditions and denial by officials is leaving California prisons ravaged by outbreak.

Car Culture: Sober but helmetless in Idaho
California may require motorcyclists to wear a helmet but a growing trend requires even more: that riders stay sober.

Movie Review: 'The Lake House'
Science fiction takes a back seat to sheer, delicate romance in this remake of the Korean film 'Siworae.'
Movie Review: 'The King'
Gael García Bernal's latest disses the Bible Belt.

MORE MOVIE REVIEWS

SANTA CRUZ COUNTY MOVIE TIMES

Mūz: Santa Cruz Media, Music and Arts
Musings on media, music and the arts in Santa Cruz and beyond. On the eve of his Santa Cruz appearance, political comedian Will Durst muses on George W. Bush, his morning radio gig and equal-opportunity hatred.
Music and Nightlife Calendar Picks
Our critics pick this week's most interesting gigs: Les Yeux Noirs, Greg Brown, Alison Brown, Neko Case, Brian Auger's Oblivion Express, Fairport Acoustic Conventino, Tiger Army, Diane Cluck and Garrett Pierce, Cornell Campbell.

MORE MUSIC AND NIGHTLIFE

MUSIC AND CLUBS LISTINGS

Dining: In Search of the Perfect Slice
Three area destinations for pie fanatics, plus recipe.

BOOK A RESTAURANT RESERVATION

FIND A RESTAURANT REVIEW

Arts Feature: Built to Spill
After a going-through-the-motions album and a solo effort, frontman Doug Martsch regains his neo-classic rock motivation.
Letters to the Editor
June 21-28, 2006.