June 21-28, 2006
home | metro santa cruz index | music & nightlife | mūz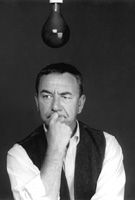 Political Parasite: Durst contemplates whether he wants his toxic sludge with or without shards.
Mūz
Durst Never Sleeps
By Bill Forman
Like Charles Dickens before him, political comedian Will Durst knows how the best of times can be the worst of times. "These may be the worst times of your life, but for me it's a cornucopia of delight," says the San Francisco-based political comedian in a phone interview. "I'm just a hypocritical parasite feeding off the carrion of society."
Durst, who brings his feeding frenzy to the Kuumbwa stage this Saturday, June 24, has the current administration to thank for making his job that much easier. Durst may work alone, but George W. Bush has been with him every step of the way these last six years as a virtual straight man.
"I do a series of verbatim quotes from George Bush onstage, and they're pretty remarkable," says Durst, a former Midwesterner whose monologues are equal parts Will Rogers and Bill Hicks. "For instance, he went down to New Orleans and said, 'We're going to rebuild these levies to equal or greater strength.' Now I'm no engineer, but I'm thinking greater might be better. Because that whole equal thing didn't work out that well."
With decades of late night standup comedy under his belt, Durst had a rude awakening this January when he began co-hosting (with flamboyant politician Willie Brown, no less) the morning show on San Francisco's Air America affiliate, The Quake. "It's every day, Monday through Friday, from 7 to 10am, which necessitates a 4:30am wakeup call, which is barbaric," moans Durst. "I'm a comic, man. I spent 23 years training for the wrong gig."
Durst also does audio commentary for Audible.com and XM radio as well as a weekly column for WorkingAssets.com (which is also syndicated to alt-weeklies). "I've patched together a comedy quilt," Durst remarks dryly. He also says he does a lot of Chamber of Commerce gigs, which have turned out to be a natural fit. "They're businessmen, so they have to know about politics. And they also have to be able to work with both of the assholes, so they're not really partisan--they can see the laughs on both sides. Which is what I try to do. I hate the Democrats as well as the Republicans. After all, the Democrats are useless."
Which is not to say, Durst notes, that Al Gore wouldn't have been better than Bush. "No, of course not. I mean the very first day in office George Bush signed an executive order stopping any planned parenthood money to foreign countries that mention the word abortion. So he cut off millions of dollars of funds to poor African nations. I mean, thousands of African women died because of something he put his signature to on the first day."
In other words, he says, both parties suck, but the Republicans "suck bigger."
But Will, this is Santa Cruz--why view the glass as half empty when you can view it as half full?
Durst is unswayed. "With Democrats you have a glass half full," he says. "With Republicans, there's toxic sludge in the glass along with shards because they broke the glass over some poor person's head."

Will Durst. Plus Richard Stockton, Saturday, June 24, at 8pm at Kuumbwa Jazz Center, 320 Cedar St., Santa Cruz; tickets $20; 831.427.2227.
Send a letter to the editor about this story.