June 21-28, 2006
home | metro santa cruz index | music & nightlife | feature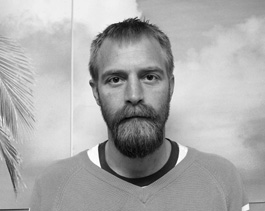 If you build it they will spill: The band's last album, says Martsch, was motivated by label obligations.
A Band in Reverse
Built to Spill discover newfound inspiration in their signature sound
By Paul Davis
A few years back it seemed that indie titans Built to Spill were on the cusp of something big. Adored by the hipster elite and scruffy Pacific Northwest hobo punks for years, the band was beginning to bridge the generation gap, bringing in balding longhairs who looked like they hadn't been to a rock show in decades. They had come around to what many of their children had been aware of for years--Built to Spill trafficked in the kind of open-ended guitar rock that is nowadays labeled "classic," reminiscent of the melodic guitar squall of Neil Young and Crazy Horse in their heyday.
And then everything went silent for a few years. After a lukewarm reception to their 2001 release, Ancient Melodies of the Future, the band disappeared. Singer/guitarist Doug Martsch moved far from their Northwest base to live in Idaho with his girlfriend and young son. Martsch's 2003 solo release, a modest foray into open-tuned acoustic blues, was well-received, but only served to cement speculation that the band was no more.
In reality, Martsch had just gotten burned out on guitar rock and the signature Built to Spill sound. And he recognizes that some of that creative inertia crept into the band's last release. "When we made Ancient Melodies of the Future, I'd lost interest in independent rock and wanted to make the songs simple and straightforward--in and out," Martsch explains. "I didn't feel like playing much guitar and wasn't into playing in Built to Spill. That last record was really motivated by obligations to the label."
Still, Martsch notes that the future of the band was never in question. "We just took a break--we actually only took a break for about a year or so. I'd gotten really into Fred McDowell, and the solo record was just my process of learning slide guitar in open tunings--little exercises I'd made for myself that turned into songs. I actually recorded that stuff with no intention of bringing it out."
With the blues fascination out of his system, Martsch was able to return to the band with reinvigorated energy. The members met up in Martsch's garage and jammed for months, with an ADAT machine documenting their guitar explorations. Their new album--You in Reverse--returns to the Built to Spill sound that made hipsters take notice and gave the old-timers '70s rock flashbacks, with songs that stretch out into nine-minute guitar epics. Still, the album is not a sheer retreat into an older, proven sound, as evidenced by a new, and largely unexpected, flirtation with reggae rhythms.
"I'd always hated reggae growing up, but it turned out I was listening to the wrong stuff," says Martsch. "I definitely don't want Built to Spill to turn into a reggae band, but we've already written another song for our next album that's straight-up dub reggae. That's really a lot of what I listen to now--reggae, plus old blues, soul and R&B."
The band has insisted on keeping the music front and center. In a time when new indie bands spend as much effort branding themselves as writing songs, the band has refused to give the image makers anything more easily marketable than straight-up guitar rock and Martsch's trademark beard. "We're just normal people who didn't feel the need to try to be weird or whatever. We don't give much thought to image--playing music just happens to be what comes naturally to us," Martsch notes.
"I really don't give a shit about the indie rock label. I think a lot of bands are beyond the title--so many of these bands are more influenced by classic rock and the Beatles and that sort of stuff. None of those titles matter at all--they're just words."
Adherence to the fundamentals of classic rock has garnered Built to Spill a wide ranging fan base. "I feel really lucky to have such wide appeal," he says. "We don't sell a lot of records, but there's this weird and great cross-section of people who like what we do--everyone from older hippies to young punkers.
"My neighbor told me recently that she went to a rodeo in Idaho and saw a guy in stonewashed jeans and a Built to Spill T-shirt. I love the strangeness of that sort of thing--and that my neighbor saw irony in that!"
Built to Spill appears Sunday, June 25, at 7:30 at the Catalyst, 1011 Pacific Ave., Santa Cruz. Brett Nelson opens. Tickets are $15/advance, $18/door; 831.423.1336.
Send a letter to the editor about this story.